Paula embarked her second attempt this afternoon: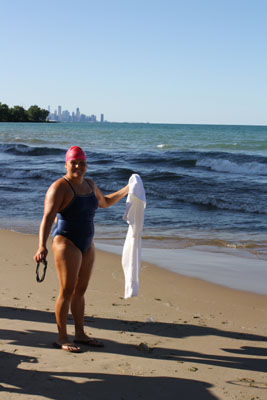 Below are the text messages I'm getting from Paula's support crew (most recent ones at the top). Keep checking in…more to come!
The forecast – clear skies and warmer lake temperatures – looks great!
10:08pm (EST) – Swim Finish
Paula was not the picture of joy coming out of the water but she looked strong coming toward the beach and kept picking up the pace till it was over. She is now snug as a bug in her hotel bed and hopefully can sleep through much of the pain that her body has went through.

The weather was good and she made it in before dark. The swim took a total of 25hours 38 minutes.

Someone will give you better details tomorrow but just wanted to be sure at least one email went out so you knew she was victorious
4:04pm (EST)
This may be the last communication until after the swim.

She is on pace to reach land around 10:00 and I assume they meant eastern time so 9 central. The Land Support Task Force (LSTF) will attempt to find an internet connection near the beach at a cafe but if we can't find one we will be sure to inform you of some of the sea fareing tales when the crew returns.

We have been requested to find information on beaches south of the park so it is possible the landing location may change.
2:15pm
14 km left as of around 2:15pm est
12:30pm
36 km down in 18 hours.catching the rays from the zodiac:)paula doing great in the sun and water like glass with a pacer in the water.2km per hour,sheis awesome
10:50am
Sunny and low wind Kendra (one of Paula's pacers) just got back on the boat. We're bang on track 10pm est. 9 central (Michigan City time). The destination is Washington Park Beach in Michigan City
9:40am
33out of 54km eta 10:30est tonight Paula picked up the pace now the sun is out. She is doing great.
6:45am
Half way, sun is out,looks like it is going to be a sunny day 4 paula
5:50am
24km in 12 hours, morning is breaking paula doing great and looking forward to some sun winds are at about zero so good news so far!!!
10:30pm
weather is good paula looking strong 1 to 3 foot waves water temp 68 we can see the smoke stack at michigan city woot woot
8:30pm
4km in 2 hours,going into waves,fairly calm. doing good.clear sky.nice sunset over the city