Every major city that has been around for a while has layers of history that can often be seen in abandoned or forgotten infrastructure projects, and Chicago is no exception. Given my fascination with the lake and its own unique history in this area, it was only a matter of time before my curiosity got the better of me. However, I wasn't expecting my explorations to lead to a fascinating discovery literally right under our feet at L1.
Before I recount my recent adventure, I'd like to provide a quick background for context. One of my most popular posts has been the one on the water crib. You don't need to read the whole thing, but I'd like to draw your attention to the last paragraph:
The Two-Mile Crib was connected to a tunnel built 60 feet below the lake surface, and this tunnel ran all the way back to the Chicago Avenue pumping station – which was part of the historical Water Tower complex still located today on north Michigan Avenue.
According to historical records, there was a rather extensive system of water and maintenance tunnels created underneath both the city and Lake Michigan in the 19th century. Dating back to 1867, they were all part of the massive undertaking to construct the water cribs.
A very good reference for this is Under Your Feet, Chicago's Water, Freight, Subway and Storm Tunnels, an online resource from the University of Chicago's Crerar Library. You can delve into the details yourself, but here are some historical images which provide visualizations of the types of tunnels that were built at the time:
So what does this all have to do with L1 and Open Water Chicago? Well, I've always been enthralled with the idea of exploring secret passageways and uncovering cool things. When I attended the University of Illinois back in the day, I "heard from a friend" that you could access the underground steam/utility tunnels and have all sorts of adventures traversing the hidden world beneath the campus.
So I came up with the idea of doing something similar with Chicago's hidden network of tunnels, and I bounced the idea off of my fellow Illini and co-conspirator, "Clark" (real name withheld to protect the not-so-innocent). For several weeks, we researched the tunnel system and pored over antiquated maps and blueprints until we finally pinpointed what appeared to be an entry point. And what we discovered was absolutely astonishing as you will see.
Lake Tunnel Access
Have you ever wondered about that rusted maintenance door in the pedestrian walkway that goes from North Avenue underneath Lake Shore Drive to the Chess Pavilion? Well, it turns out that it is not just some benign utility closet. Instead, it is one of several areas where you can gain access to the aforementioned underground lake tunnels:
After taking these shots in the pre-dawn hours, we got to work on jimmying open the maintenance door. The lock was pretty much rusted through, but Clark was able to use his locksmithing skills to unfreeze it while I strategically positioned myself to shield our activities from watchful eye of the nearby security camera.
Once opened, we hustled inside and had a heart stopping moment where we both almost stepped into an access ladder shaft just a few feet from the entrance. Fortunately, we had turned on our headlamps before making the ingress, so we managed to avert what would otherwise have been a catastrophic introduction (and abrupt conclusion) to our little escapade.
Once we regained our composure, our sense of curiosity and our drive for exploration took over. Bottom line, we just couldn't resist the temptation of this "attractive nuisance." So we began to guardedly climb down the ladder which descended for quite some way – I'd estimate at least 50 feet.
After about 10 minutes, we reached the bottom where the ladder ended on a dirt floor in a narrow passageway. Given the pitch blackness, our headlamps weren't enough. So we activated our flashlights and camping lamps that we brought along to aid in our exploration.
What you are looking at above is one of the old access tunnels. This one is heading due south towards the Hancock building. We opted not to explore that route, but instead went directly east using the passage you see just ahead on the left. We deducted that this one went underneath the lake, and we wanted to see where it would end up.
As it turned out, this tunnel continued on for quite some time – over two miles as you will see later – and became very narrow along the way. Below are a few shots we snapped at various points along the path.
Finally, and much to our relief, the tunnel opened up into a larger space where it dead ended at a vertical shaft. The journey to this point took at least an hour as we were being overly cautious while navigating the cavernous route. Truth be told, we weren't sure what to expect – or if the the section underneath the lake was even stable at all. So we had more than a little bit of trepidation during the entire time we were in transit.
Reaching the end point was a real cathartic event as neither one of us had enjoyed the claustrophobic odyssey. We scouted out the open area and found what looked to be a still functional escape ladder. Since this seemed to be the only way to get anywhere, we secured our gear and started the ascent.
After climbing about 30-40 feet up the rickety ladder, we reached a rusted iron ceiling which had a trap door access way that was sealed shut. But fortunately, the edges of this panel had eroded enough for Clark to cut through the worn out hinges with a cordless reciprocating saw. When were finally able to remove the access panel, we found ourselves in a utility area of a sub-basement. But sub-basement where?
We got our answer fairly quickly once we started exploring our new digs. The door out of the sub-basement led through a small room which exited to a hallway. As we roamed though this corridor, the rhythmic sounds of some mechanical function became steadily louder until the hallway opened up into a large, round atrium – obviously some type of pumping station. We could see doorways on the upper levels that were accessible by some catwalk staircases, so we clambered up these to see where the source of daylight led.
Much to our amazement, the doors led outside to a structure right in the middle of the lake. So – you guessed it – the lake tunnel that we had just traversed led to the exact same Harrison-Dever water crib that we all look out on whenever we gather at L1 for a swim!
It suddenly dawned on us (no pun intended) that we must have lost all sense of time while in the tunnel as it was already well into morning with the sun long since risen. I started to take a few shots to document our little adventure, but then noticed that there was a Chicago Police boat in the vicinity that was heading for the water crib (ulp!).
While we were certain that it hadn't noticed us, we couldn't rule out the possibility that we had inadvertently activated some sort of sensor-activated monitoring alarm. So we hastily retreated to the sub-basement and scrambled down the ladder after placing the access panel back in its proper place.
What happened next would make the late Roger Bannister beam with pride. Once our feet touched the floor at the bottom of the ladder, we darted back into the tunnel and covered the 2+ miles in what was mostly a full on sprint. When we finally arrived back at the foot of the initial ladder shaft, we stopped for a few minutes to catch our breath before making the final ascent.
Exiting into the pedestrian tunnel was a bit tricky as there was now an assortment of runners, bikers, and wayward passersby to contend with on the other side of the maintenance door. So while we carefully opened it up to make our egress, we still almost upended a lanky fellow on a very expensive tri-bike (who was going way too fast in the pedestrian tunnel, I might add).
Once outside, we wedged the door back into its proper place and tried to ignore the stares of the people who had seen us emerge. Fortunately for us, we had secured rock star parking right near the cul-de-sac on the west side of the pedestrian tunnel. So it was just a matter of piling into our waiting car and driving off as inconspicuously as possible.
I know there are some of you out there who will look upon this as nothing more than foolish risk taking. But for those of you who are more adventurous souls, I would implore you to take a deeper look into the fascinating history of our great city and seek out opportunities like this wherever you can find them. After all, nothing ventured nothing gained!
Over the past 12 years (has it really been that long?!?) I've been taking photos both inside and outside of the lake at our world-famous swim site. Well, I finally went through my voluminous cache and picked out what I believe to be the best ones to date. You can check them out at this link, or just go to the "Photo Gallery" area in the menu at the top of our home page.
If you are so inclined, you can purchase one (or more!) high-def version for a nominal fee of $5. This is part of an ongoing fundraising effort for OWC to help defray the costs of running OWC and maintaining the website. As an example, my web hosting alone costs over $100 a year. There are several other expenses, not to mention the time and costs associated with organizing the year-round meetups.
So please check out the OWC gallery, and feel free to contribute to us and hopefully keep us going for another 12 years (or more)! 
Every Spring, the City of Chicago sets out the buoys in our swim area, giving us roughly 1/4 mile from the shore to play around in. But it looks like they capitulated to the stand up paddle-board contingency at North Avenue Beach this year.
As you can see below, the new placement of the buoys is ridiculously close to our swim area. This means that we will not only have annoying paddle-boarders in our sacred space, but we will also have the motorboats and jet skiers coming dangerously close to where we typically swim.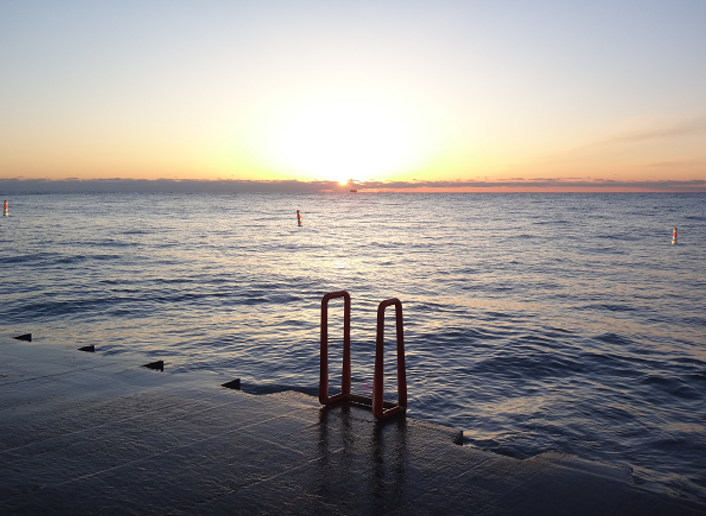 This is simply unacceptable. I've already been in touch with the City of Chicago and the Chicago Park District to express my grave concerns about this safety hazard. I implore you all to do the same immediately.
Thank you for your continuing support of OWC. Please join me in making your voice heard for all swimmers in Chicago. The lake belongs to all of us – not just to the highest bidder from the multi-sports industrial complex.
UPDATE: It has started already…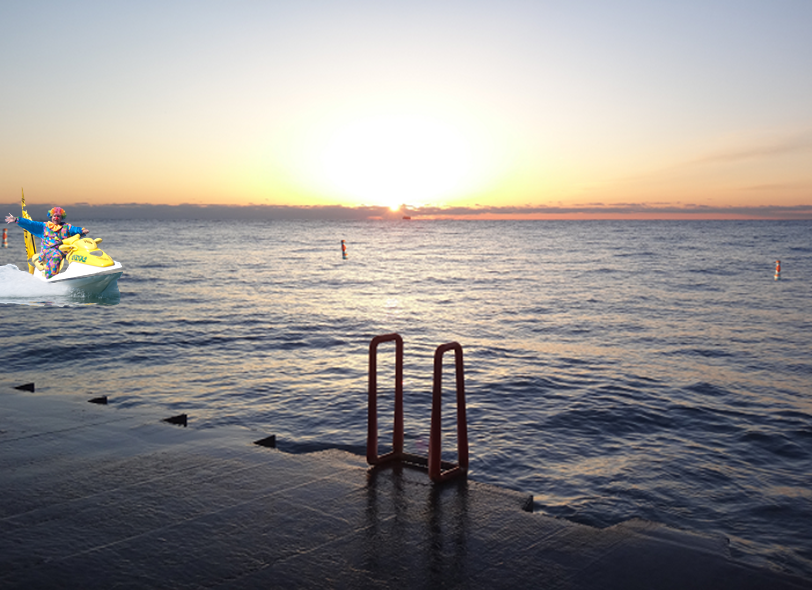 The L1 open water site is about to get swim lockers – and a whole lot more!
One of the lesser known projects of Mayor Emanuel's lakefront trail redevelopment plan involves a complete overhaul and redesign of the Chess Pavilion. Originally built in 1957, the iconic limestone pavilion has been a popular summer gathering place for generations of masters and novices alike. But over fifty years of water's-edge exposure to winter conditions has taken a substantial toll on the beloved lakefront landmark.
In mid-2015, the Chicago Park District commissioned a civil engineering firm to conduct a failure analysis on the Chess Pavilion. The results unfortunately uncovered serious structural damage to the Chess Pavilion – so much so that the Park District will be officially condemning the structure later this month while preparing the site for demolition.
Chess Pavilion (current structure to be demolished)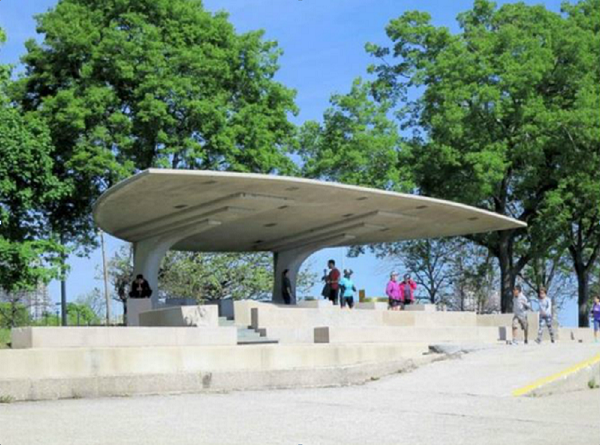 While this is certainly a heartbreaking development to all of us who have become very fond of the Chess Pavilion over the years, there is a silver lining to this misfortune. Namely, the Park District is going to replace it with a public use facility designed primarily for Chicago's large and growing outdoor swimming community.
In May 2016, the City of Chicago will break ground on the former site of the Chess Pavilion for a brand new facility – the Weissmuller Pavilion.
Weissmuller Pavilion (exterior design)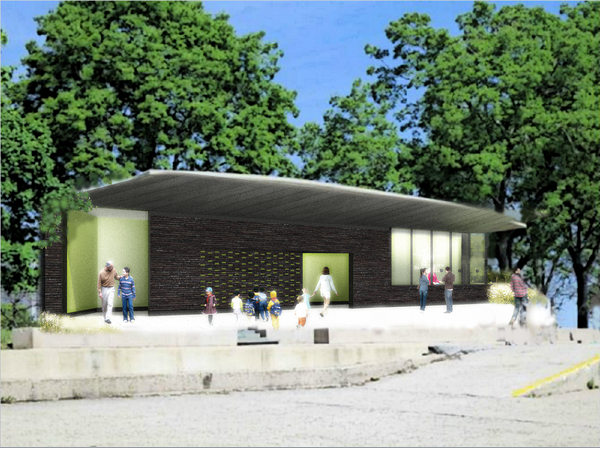 Named after Johnny Weissmuller, Chicago's most famous competitive swimmer, the Weissmuller Pavilion will be specifically designed to cater to the unique needs of swimmers and beach goers at both North Avenue Beach and Oak Street Beach.
The Weissmuller Pavilion will still retain the open air community feel of the Chess Pavilion, and the Park District will preserve the embedded chessboards on the concrete embankments for those who still wish to get in a match out at the lakefront.
But the new facility will have a much heavier focus on swimming, and it will include unique features such as swim changing rooms, lockers, and hot showers – all within a short walk from the L1 swim site!
Weissmuller Pavilion (locker room layout)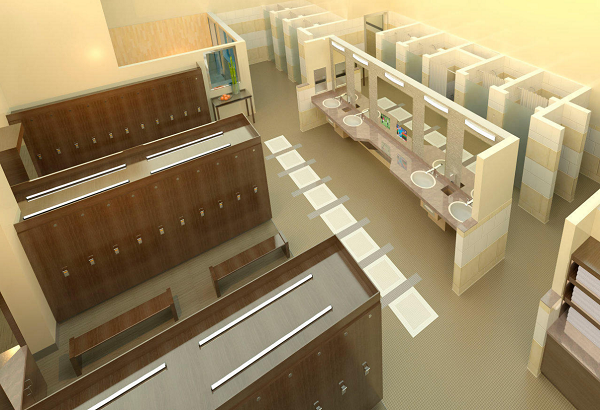 While the completion timetable for the Weissmuller Pavilion is still being finalized, I have received word from the Park District that it should be in place and fully operational by mid to late August of 2016.
And it is my understanding that Mayor Emanuel – who is an active swimmer himself – has taken a personal interest in expediting the completion of the Weissmuller Pavilion.
Perhaps he will be equally as proactive in coming out to L1 to get his Lake Monster number?
As most of you know, I was out of town the weekend of the 25th. So I missed out on the informal gathering out at L1 where Marton had his last swim (for a while at least) with a bunch of other Lake Monsters. However, Marton and I had previously discussed getting together up here in Evanston for a send-off swim before he headed back across the pond.
Needless to say, neither of us needed any convincing to get back in the lake again!
We got up super early that day, and I met Marton out by the Central Street El station. He was biking it, so he followed me a mile east out to Lighthouse Beach. We stashed all our stuff in my car save for the essentials (goggles, swim cap, camera, etc.), and we headed out to the shore.
It was already 78F at 5:00am, and the first hits of daybreak were forming out on the eastern horizon. Since we were planning on doing a long, leisurely swim, we got in the lake right away and started swimming due east – straight out into the lake.
The lake temperature – which couldn't have been any more perfect – came in at a refreshing 71.6F. And the lake was as clear as I have seen it since we had the spring turnover in late April.
Marton swam breast stroke the entire time, and I did mostly free stroke with some occasional stretches of breast stroke. This gave us plenty of opportunities to chat while we were in the water waiting for the sunrise. We estimate that we were roughly 1/2 mile out in the lake when the sun finally crested over the water.
Words cannot describe the sensation of being out in the lake at the dawn of a new summer day. The lighting and colors of daybreak were nothing short of breathtaking.
We stayed out there for quite some time, chatting some more and taking lots of photos, before we reluctantly decided to head back. As with the swim out, we took our sweet time getting back, finally landing ashore at Lighthouse Beach – just in time to interrupt a beachfront yoga session!
As with all these swim reports, I'll let the pictures speak for themselves.
And as for Marton, we will miss you my friend! Chicago winters will not be the same without you in the lake!
Lighthouse Beach at 5:00am
At the 1/2 mile mark
Dawn of a perfect morning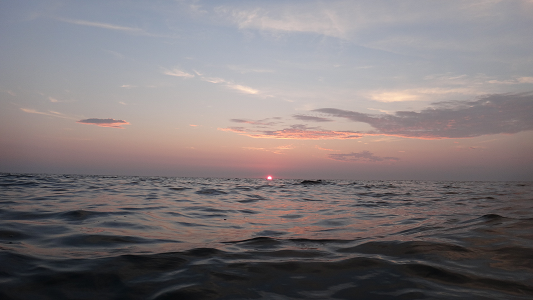 Marton beneath the surface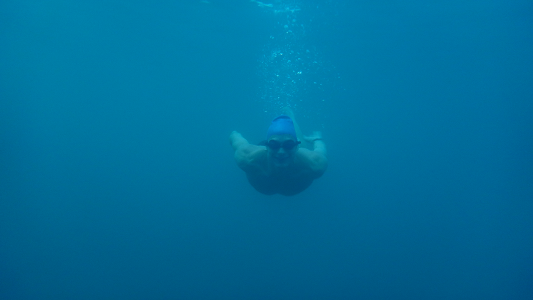 Final shots before heading back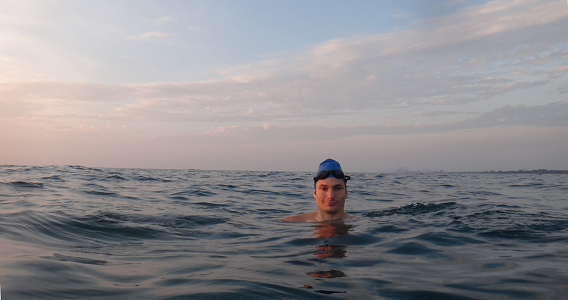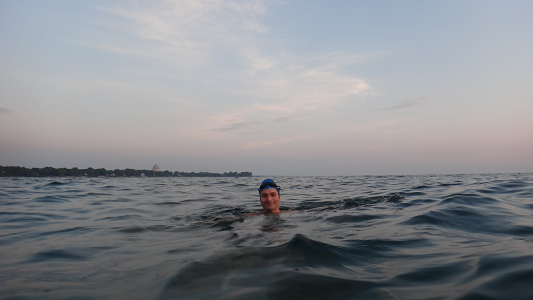 Exploring a lone boulder on the lake bottom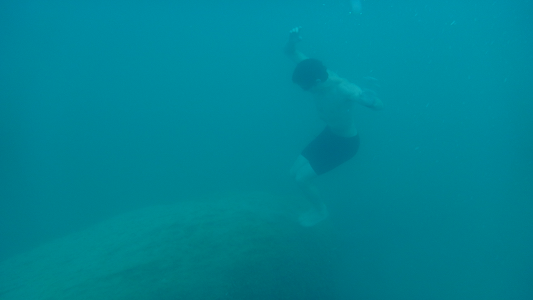 Back at Lighthouse Beach!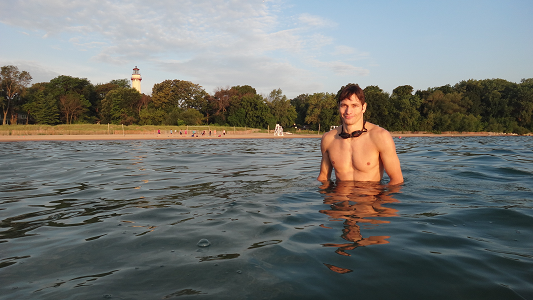 Are you an event organizer in charge of promoting a for-profit or charity swim? Or are you a race director for a triathlon looking to tap into Chicago's multi-sports market? Well you've come to the best possible place!
If you don't have much of a budget, one great way to promote your event is through the OWC Facebook Fan Page.
Here you will get exclusive exposure to a pre-qualified group of over 2,000 open water swimmers who are always highly motivated to sign up for the next big swim event!
So how do you do this? It's really easy.
Just send me a note with the details of your event along with your contact information. Or call me directly at 312-927-0299 if that's easier.
I'd be happy to work directly with you to arrange a marketing event or promotion that best fits your needs and your budget.
As a quick background note, I do not allow any type of unsolicited product or event promotion on the OWC Facebook page. I created that policy because I didn't want the page to get hijacked by spammers – which is exactly what happened when I first started the page. Also, as OWC has grown over the past 7 years, the costs to me in both money and time have grown substantially.
Bottom line, I am actively (and unashamedly) looking for ways to monetize OWC so I can continue to grow the Chicago open water swimming community – and by extension your customer base. So if you decide to support me in my efforts, it will be a win-win for both of us.
So what are you waiting for? Get in touch with me ASAP – before one of your competitors does!
Thanks!
Steve
P.S. If you have a bigger budget and want to explore other possible promotional opportunities with OWC, be sure to check out the details at the "Our Market" page!

There's a brand new feature on the OWC website. If you look at the bottom right side, there's a bright green tab that says "OWC Swim Waiver." Be sure to click on that and fill it out – and that includes all you Lake Monsters who have already swum with us in the past!
Otherwise you simply cannot swim with us at any of our upcoming meetups.
Allow me to explain why…
When we started out this whole OWC experiment seven years ago, there were just a handful of people who would come out to swim at L1, and most of our meetups were informal events or spontaneous "see you some time tomorrow" arrangements. But as we've grown as a group – and as overall interest in open water swimming has accelerated – we have a much different scenario these days.
It is now quite common to have 15+ people show up at a meetup, and many of these swimmers are new to the group and new to open water swimming altogether. And while this is an exciting and welcome trend, it also presents a challenge for OWC – and for me specifically – when it comes to ensuring that everyone has a safe and positive experience.
As a quick illustration, here are some actual situations I have had to personally manage and deal over the past seven years while out at L1 during a meetup:
– Distressed swimmers (4 rescues to date!)
– Large groups of pool swimmers with no open water experience showing up on days with dangerous lake conditions
– People seeking a "polar bear plunge" experience without any prior cold water training, gear, or preparation
– Other situations that, while not dangerous, may have given someone a negative experience with open water swimming
From a risk management perspective, this is no longer something that I can allow without some sort of formal acknowledgement and agreement on your part that 1) you recognize that there are indeed risks to participating in this type of activity, and 2) you accept complete responsibility for them.
So please complete the OWC swim waiver now so I don't have to tell you on site that you can't swim with the group (and by extension, that you can't get your super-awesome, world famous Lake Monster Number)!
And one final note – I am still in the trial period with Smart Waiver for the remainder of April. That means that all of you can complete your waiver now (one time only) and not have to wait weeks or months at some point in the future.
Translation – when I have to officially sign up for a monthly waiver plan, I will only be able to accept so many waivers per month. Once that quota is reached, you will have to wait until the next month to come out to one of our meetups.
So just click on the link, complete the form, and know that you'll be able to come out and swim with us whenever you want to going forward.
Thanks!
Steve