Dave scouted out the lakefront yesterday, and the only area with open water was the Montrose south wall. But even with that potential, there was still a 15+ foot ice shelf along the shore that would require some heavy duty labor to gain access to the swimmable lake.
Fortunately for us, we had our trusty pickaxe…
I met up with Mike and Marton this morning out at the south wall, and the air temp was all of 7F. Luckily for us, there was no wind, and the sun was out in force. So after scoping out various potential entry points, we settled on our regular ladder and started to clear the swim area.
We managed to clear the ladder and create a hole just off the wall. But the remaining shelf was too thick to break through. So we attached a safety line to the ladder and tossed it out to the open area before suiting up and getting in.
We climbed out onto the shelf and crawled about 10 about feet out before the ice became thin enough to break through. From that point, it was an easy chore clearing the thinner ice layers in order to get access to the open water.
I hung out near the edge of the ice shelf and snapped some shots of Mike and Marton as they navigated the obstacle course. I caught up with them about 1/4 west where the lake had completely frozen over. After a bit of effort, we climbed on top of this much more extensive ice shelf and did some exploring.
After our fingers started to get really cold in the frigid air, we jumped back in the lake to "warm up" in the 32.5F water. And believe it or not, you could actually feel the temperature increase once we got back in the water!
We made it back to our entry point and used the safety line to facilitate getting back onto the ice shelf. All in all, another really amazing adventure out at the lakefront!
Last sunrise of February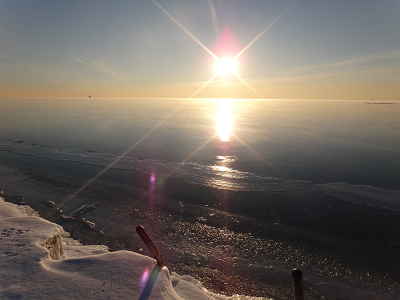 Clearing the lake access point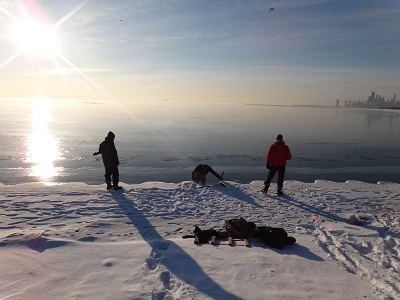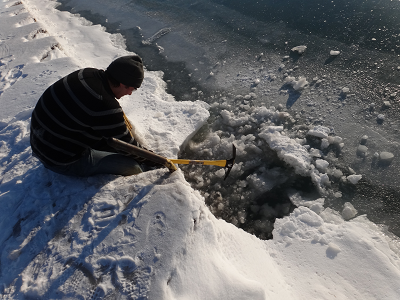 At the halfway point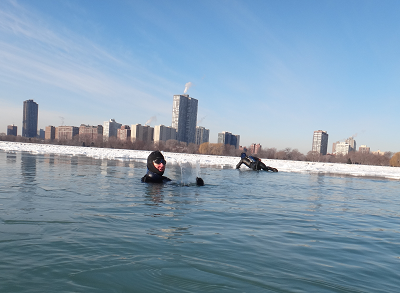 Mike navigating the ice shelf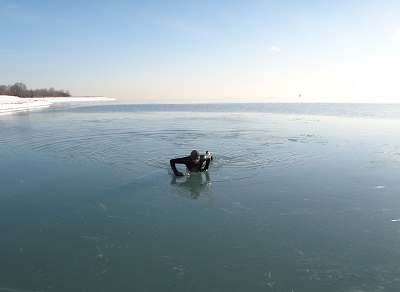 A unique vantage point of the city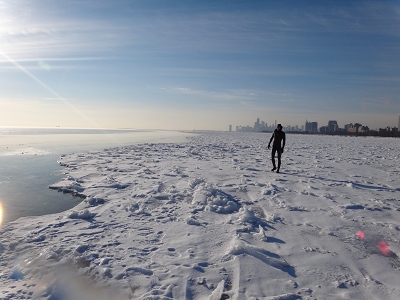 Mike and Marton at the swim finish
Video at the halfway point