No updates yet on Paula as of 9:20am Saturday. If everything went as planned, she should be hitting Michiana Shores within the next three hours. In the meantime, here are a few shots that Dave took before Paula started her swim: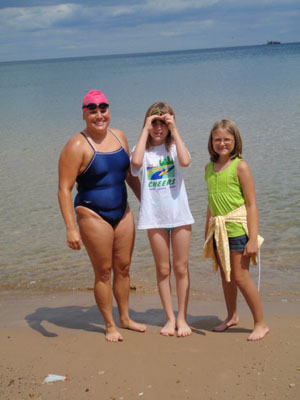 Per Dave:
Rainbow Beach August 21, 2009

The captain of the life guards would not let Paula swim off the beach without a signed permit. So with the help of $20 to buy the captain lunch, he pointed out an area two blocks north behind a rock wall that was not an official beach area in which Paula might just be able to swim from "as he walked way to buy lunch….."

As you can see in the first photo, her two helpers are smearing on a lot of shark food which she figures will help her swim much faster if a shark is after her. Photo #2 shows Paula posing with Erin and a "Jellyfish" from the ladder #1 gang at Oak Street Beach.

Paula headed out at 12:45ish for her 24-hour swim in 59F degree water which was near flat….

Good luck Paula

O.W.C.
As you can see, we take care of our own!