The water was quite turbulent at 7:00am, and the swim looked like a probable bust. After some lengthy observation and deliberation, Mike decided to give it a shot. Nick and Amanda soon followed, leaving me to succumb to peer pressure once again.
The lake temperature was quite tolerable at an estimated 61F. I couldn't get an exact reading as the heavy waves had slammed my thermometer against L1 and shattered it (so now I'm out another $3.95). The waves, however, were pretty arduous to say the least. I'd estimate they were cresting at around 8-10 feet.
We kept about 50 feet from the wall so as not to get caught in the ricochet area. We also opted to avoid the beach as the swells hitting that area were quite overpowering. I turned back about 3/4 of the way to the beach and ended up with a shorter – but definitely more intense – workout. And just like last week, it was much more comfortable in the water than outside!
L1 tsunami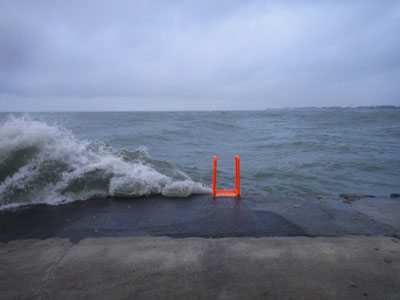 As you can see, getting out is the challenge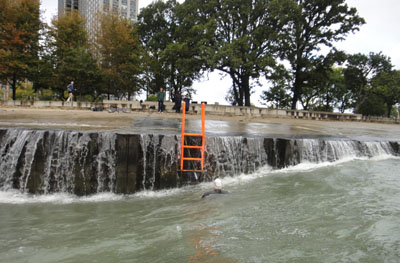 And you have to time the swells just right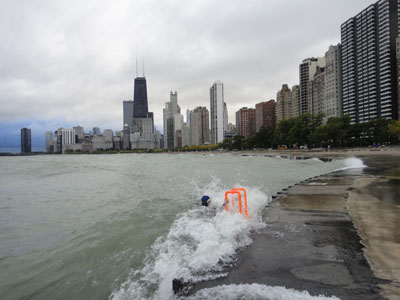 Finally, the sun peeks through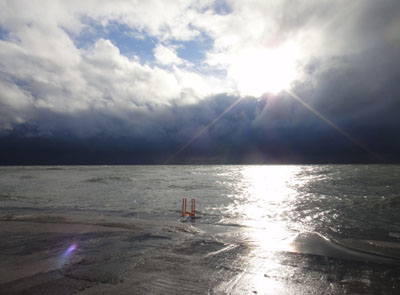 Amanda's video of some of our tomfoolery