Five intrepid swimmers turned out to get in one last swim before the end of autumn. And lucky for us, Ma Nature gave us great conditions!
The lake came in at a crisp 34F – almost the same as the air temperature. And just like last week it was perfectly calm. So it was relatively easy to manage in full neoprene (after the initial shock of the cold water surging into our wetsuits, that is).
We all swam out about 50 meters past the orange post (around the 1/4 mile mark), so we got in a good 1/2 mile in the calm but bracing lake. As usual, the only real areas of discomfort were our fingertips. My Dry Five gloves worked okay during the swim, but I'm starting to think that I may need to get a new pair come January (OWC donation hint).
There were two significant milestones this morning. First, Nick is moving north to Milwaukee and will not be a regular at L1 for a while. Quite a bummer, as we will surely miss him!
Second, by getting in a 1/2 mile swim in sub-35F water, Fred secured a much-coveted Ice Monster number. So he is now #15 in that elite group!
So as you can see, despite all the challenges that come with being on the verge of the Winter solstice, you still have no excuse for not coming out!
Ice Monsters gearing up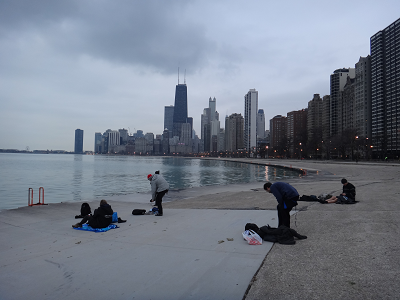 Nick's final L1 descent (for a while at least!)
Heading south!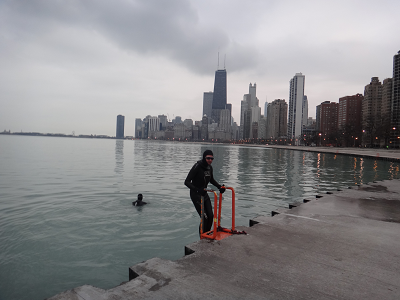 Post-swim champagne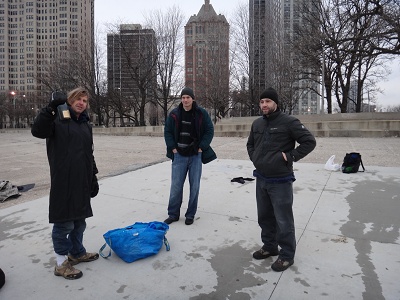 A surprise visit from Eddie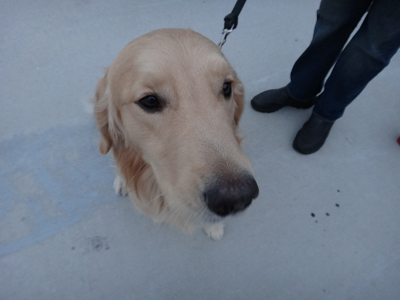 So long, Nick!