Mike and I headed out to L1 at just past 6:30am expecting the worst. The marine forecast called for 6 to 9 foot waves along with thunder and lightning – which was not particularly promising. But ever the optimists, we made the weekly pilgrimage out to our beloved swim shrine hoping that the experts would all be wrong. And they were!
We met up with Nick, and much to our relief, the swim area was relatively calm. There were some fairly strong gusts, but they seemed to be coming from the south and weren't agitating the lake that much. However, I'd seen the weather radar about an hour earlier, so I knew that this might be a very short-lived window of time to get in a swim. So we quickly stowed our gear and got in the lake.
The water temperature came in at a rather pleasant 56F – cold enough to relax us without making us uncomfortable. The air temperature, though, was fantastic. Unlike last week, we lucked out this time with a 66F outside temp.
Overall, it was a nice autumn swim, and we all went without wetsuits since we haven't taken them out of storage yet. Maybe next month…
Pre-swim skyline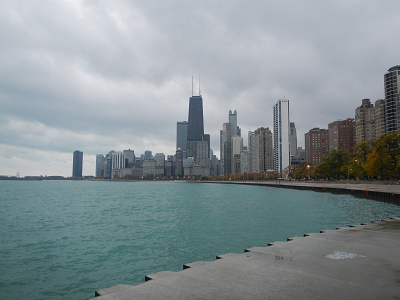 Mike and Nick post-swim
Autumn colors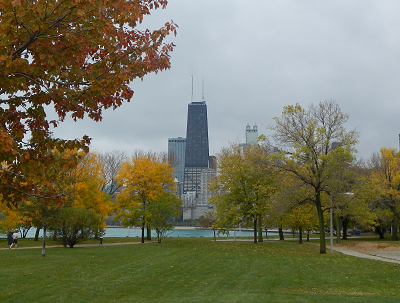 This morning's video