I'll admit it. This morning really caught me off guard. I knew the forecast called for colder air temperatures, but I wasn't expecting it to be 37F this early on. So I sullenly put my shell back in the closet, exchanged it for a winter parka, and headed on out to L1 to see what other surprises Mother Nature had planned.
Six of us made it out to the swim site – yours truly along with Nick, Hieu, Andrew, Kaley, and Kayla. To my delight, the lake was mostly calm with perfectly clear skies apart from a pesky cloud bank on the eastern horizon.
As we waited for the sun to crest over, I took a reading of the lake temperature. We were all greatly relieved when it came back at 59.9F – more than enough of a margin of error to make it over 60F officially! With that inspiration, we quickly got in the lake and started towards the beach.
We had a mild current that would occasionally steer us towards the wall, but the out-and-back was otherwise flawless. And thanks to a blazing October sunrise that helped take the sting out of the chilly air, we were able to yet again defy the elements and extend our outdoor swim season yet another week.
So where were you?!?
Waiting for sunrise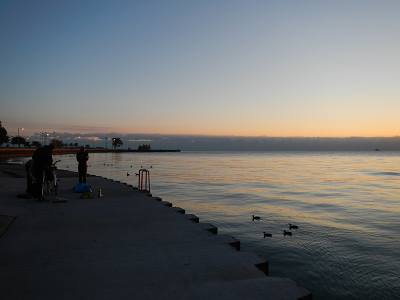 First light
Second look
Hieu taking off
Getting ready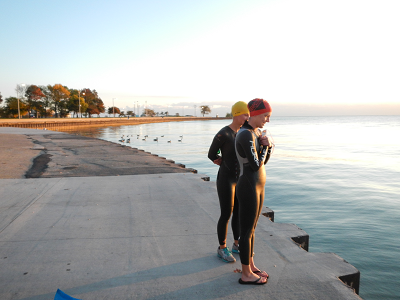 At the beach!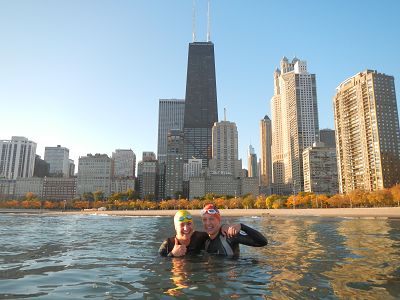 Kayla, Lake Monster 215 (way to go!)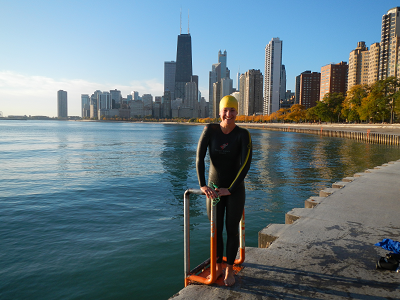 The soon-becoming-tradition video at Oak Street Beach