Swim Report – October 21, 2012 – Autumn Glory!
In case I haven't said it enough, October sunrises are some of the most amazing ones of the year. For some reason, you really hit the sweet spot of color, clarity, and contrast during these mid-autumn mornings. And when I saw the forecast for clear skies on Sunday, I knew we were in for a really fantastic one!
Mike and I met up with Nick and Neil out at L1 just a few minutes before daybreak. The lake temperature came in at a pleasant 54F, and we once again had an audience of very curious ducks congregating around L1. Neil (a.k.a. Lake Monster 216) was in town all the way from South Africa. While we couldn't guarantee him any large marine predators during the swim, we figured we'd make up for it with the sunrise.
A preternaturally bright orange orb crested over the horizon quite abruptly, and it was quite an amazing show! We took a few minutes to enjoy it before getting into the lake.
The water was a bit brisk upon initial immersion, but it was quite clear with just a very slight chop – almost ideal swim conditions. I caught up with everyone else at the beach and took a few quick shots before we all headed back to L1. Even with the abundant sunshine, we were still rather chilled at the end of the swim – especially when the good old afterdrop made its appearance.
But it was a beautiful autumn morning out at the lakefront. And even if you're not a swimmer, you should definitely make an effort to get up early this time of year to check out the morning show!
Sungazing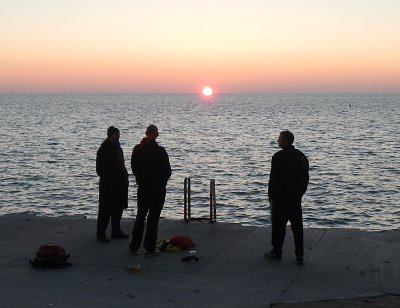 Neil, Lake Monster 216 (congrats!)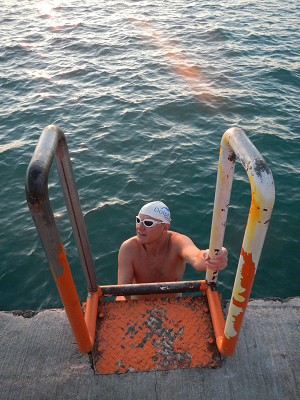 Headed towards the beach!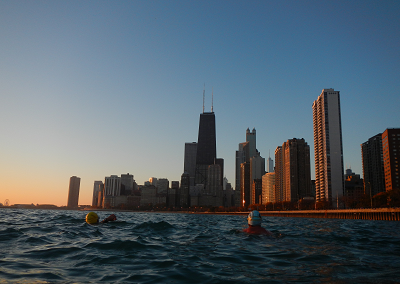 Nick, Neil, and Mike at Oak Street Beach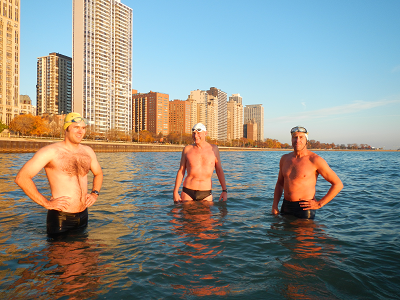 This morning's video: