Swim Report – November 1, 2014 – All Saints' Day Swim
The saints sure were with us in the lake this morning!
Five of us met out at L1 at 7:30am and looked out at very dire swimming conditions. The waves and chops had subsided very little from the night before, and they were cresting at around 12-14 feet. In addition, we had 15mph sustained winds along with a 40F air temperature. After much deliberation, we decided to do a limited swim in the area just around L1 – and even that proved to be a massive challenge!
Because of these unprecedented conditions, I went with a full wetsuit to preserve heat and maintain buoyancy. And with the official water temperature coming in at 49.2F, that proved to be the wise thing to do!
Getting in by L1 was tricky since you had to time the swells or otherwise risk getting slammed back. But the real challenge, however, was exiting the lake.
Even with just swimming around the L1 area, we were forced to get out at L3 several times due to the high volume waves pushing us south and not allowing us to get close enough to L1 or L2 to make an effective exit. Given all this chaos, I got out of the lake and retrieved my rescue buoy before getting back in. This was a welcome addition back out in the lake, and it helped us conserve our energy and better time our exits.
We all managed to get out intact – although a bit cold and battered. And we received a well-deserved chastisement from some highly respectable CPD officers who were very concerned about our well being given the fact that the conditions were so bad that even the police boats could not navigate the lake.
So the next time we get these conditions, we will definitely not be "giving it a shot."
Daybreak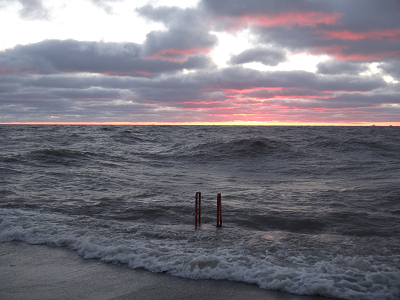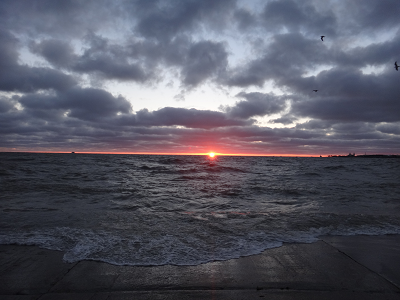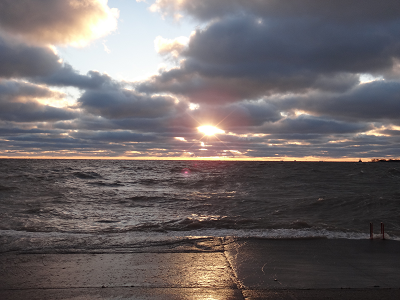 Pre-swim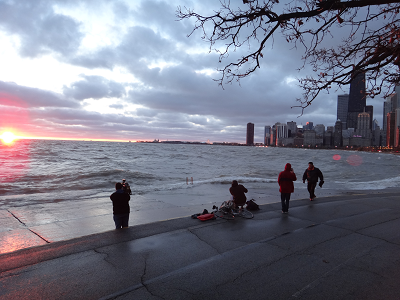 In the drink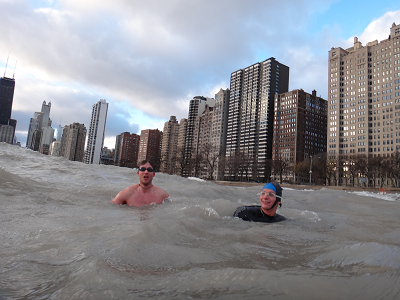 Left to right – Marton and new Lake Monsters Andrew (339) and John (340)