The first official OWC swim of 2018 proved to be quite a challenge – and not just because of the 32.1F lake and 7F air temperature!
I arrived at L1 and was quite delighted to see that the lake itself was not completely frozen over. There were some slushy patches around the 1/2 mile point, but the area around L1 was completely clear. The only issue involved lake access.
The deep freeze over the past two weeks had taken its toll on the shoreline with everything shellacked by a thick layer of ice that had completely encased the lower part of all the ladders. So there was really no way to safely enter or exit the lake unless one had some special equipment.
Fortunately, I just happened to have a spare pick ax in my car for just such occasions…
It is no exaggeration whatsoever that clearing L1 was the most difficult, strenuous, and challenging task of the morning – even more so than swimming in the freezing lake. In total, it took about 40 minutes of continual hacking to finally free up the area. So by the time I was done with all this pre-swim labor, I had already gotten quite a cardio workout!
Taking advantage of my already warmed up state, I quickly donned my gear and got into the lake. I was wearing my usual neoprene setup – hood, gloves, booties, and a short sleeve top and shorts. But I also had a short sleeve thermo rash guard underneath my top which really made a difference in my overall comfort level.
The swim start was surprisingly easy as I was already very warmed up. Also, the lake was a scorching 32.1F – much, much warmer than the 7F air. So believe it or not, it was actually much more pleasant to get in the water than to stay outside on land!
I made it to the fourth ladder, just under 1/8 mile, before I ran into an impenetrable field of slush. This had all started to move in from the south, and there was no open water beyond that point. So I turned around and headed back.
Post-swim wasn't as difficult as it has been in previous weeks. Even though the air temperature was pretty bracing, there was no wind at all, and we had a clear and sunny morning. So this really helped temper things while I was changing back into my dry clothes.
Happy 2018!
The scene at dawn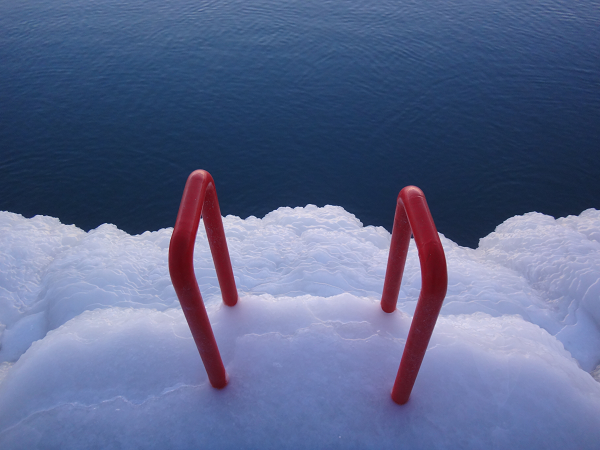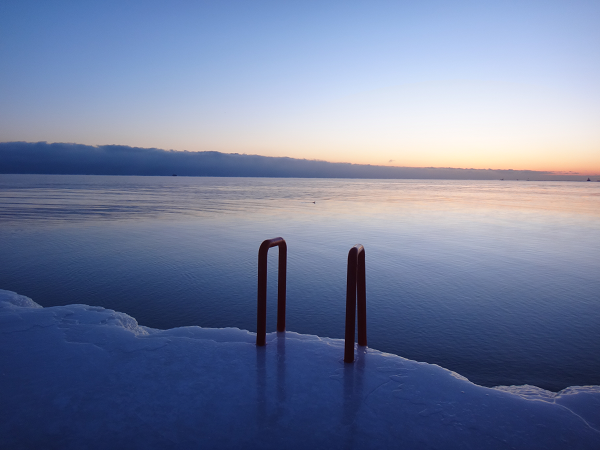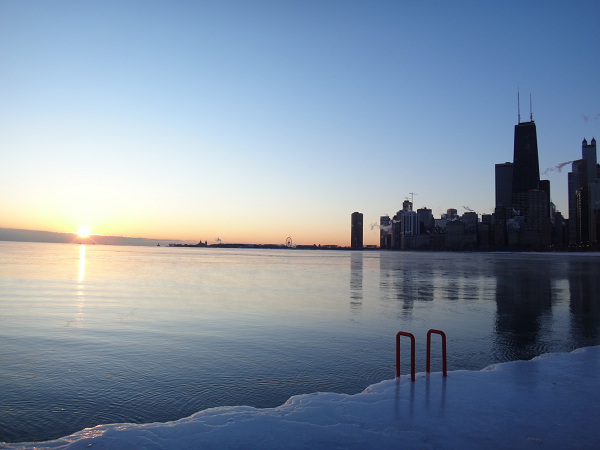 A photogenic lakefront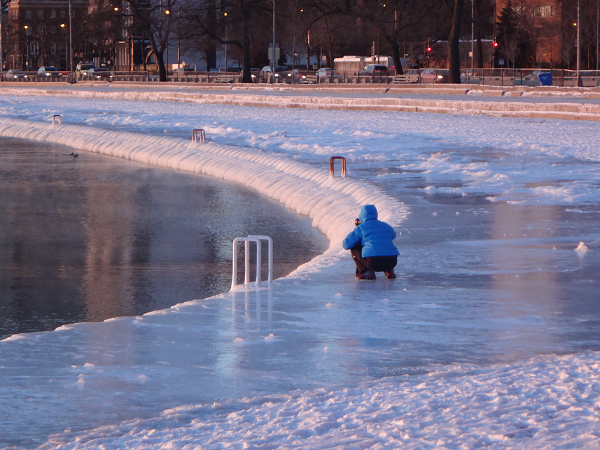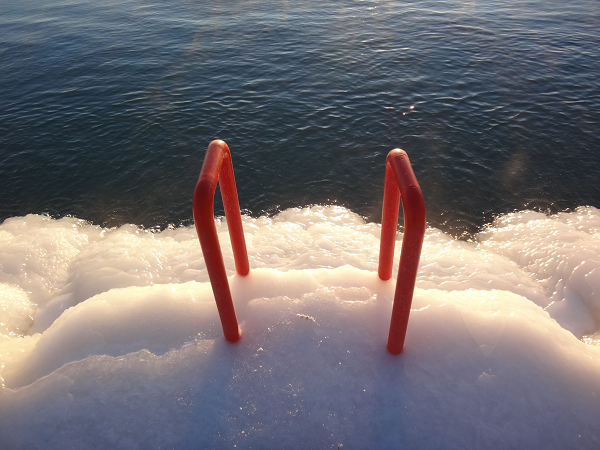 Clearing the swim entry area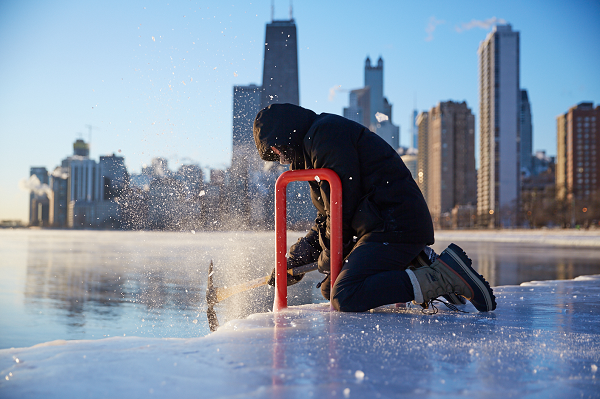 (Photo credit – Donte)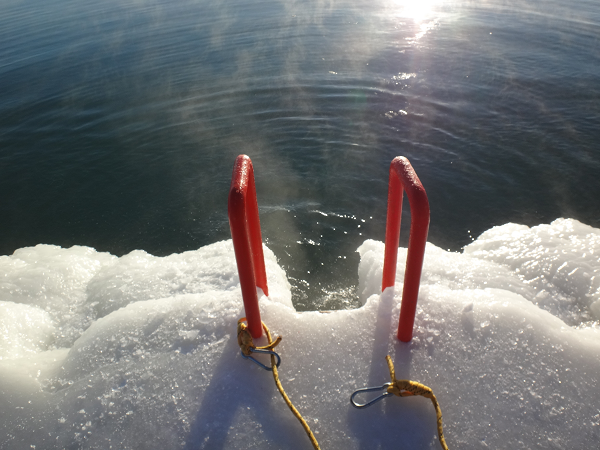 Swim start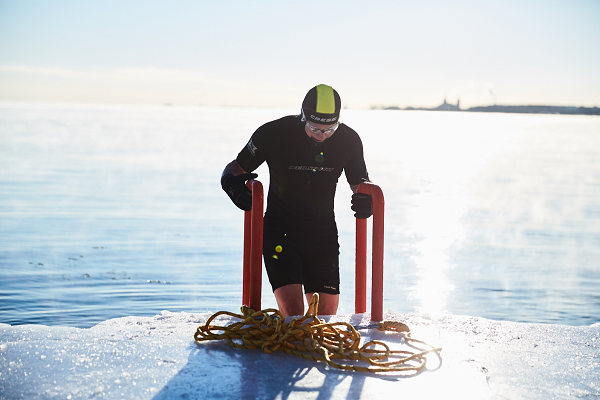 (Photo credit – Donte)
In the frozen basin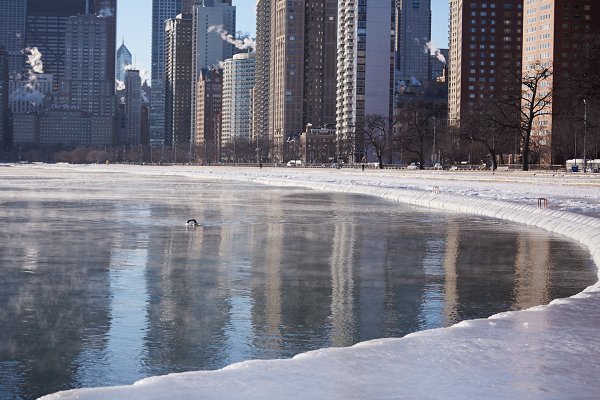 (Photo credit – Donte)
Done for the day!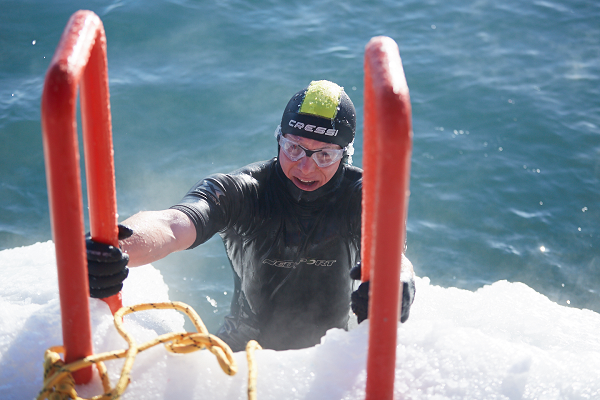 (Photo credit – Donte)