Swim Report – February 6, 2016 – Over the Hump
This time of year is typically a "break through" point for us. Since we've been coming out to the lake fairly consistently, we've finally managed to acclimate to the point where the whole winter swimming thing is now quite tolerable – or at least it's not the shocking ordeal that it was in late December or early January!
Bottom line, we are officially "over the hump" and now easily coasting towards Springtime – which is a wonderful feeling!
Mary Ellen, Tim, and Fred all met up with me out at L1 where we had practically ideal swimming conditions. But for a slight ripple, the lake was perfectly calm, and the cloudless sky allowed for plenty of life-enhancing sunshine during our journey out into the open water.
Because of these more favorable circumstances, I chose to go with just a neoprene short sleeve top and shorts along with my hood, gloves, and boots. The 34.2F water was at first a bit painful on the exposed parts of my arms and legs, but I fully acclimated by the time I hit the 1/8 mile point. My hands, however, were frozen clubs the entire time I was in the lake.
I was wearing new 7mm slip on scuba gloves that, for the most part, worked great. But since I had no sleeves to tuck them into, I had a constant stream of cold water circulating through my fingers. So while these gloves will be ideal for use with my wetsuit, I am still seeking the "holy grail" of winter swim gloves!
Nevertheless, even with this equipment glitch it was still an amazing morning out at the old swim site. And now that the days are getting longer and Spring is just a few short weeks away (so sayeth the groundhog), I suspect that we will soon be waxing nostalgic about our winter adventures while overheating in a 60F lake!
Sunrise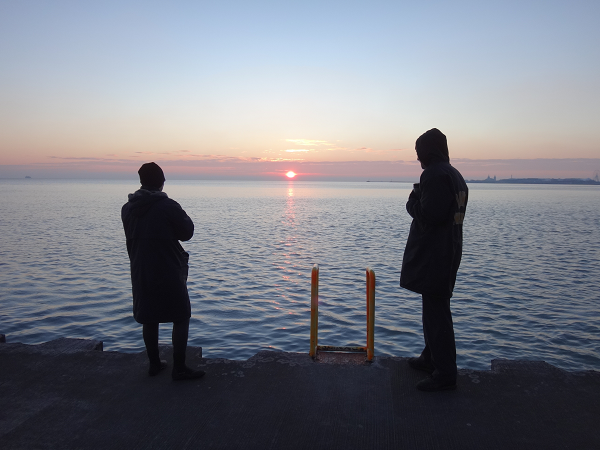 Skyline
Ice Monsters were here!
Pippa