Steady eastern winds almost kiboshed our early morning swim outing on Saturday. Fortunately for us, we had a reserve swim spot!
L1 was as picturesque as ever at sunrise – but entirely unswimmable. While the swim area was relatively ice free, the shore and ladders were all completely encased in ice thanks to constant 4 foot swells. And while these would have been swimmable (and quite fun) during the summer, they were too perilous to try navigate given the extreme cold. So after taking a few shots of the photogenic horizon, the Ice Monster caravan headed north to Montrose!
We were preparing for the south wall to be a total bust as well, but our spirits lifted once we rounded the curve by the harbor mouth. The lake seemed fairly ice free in this area, and it was mostly protected from the swells – all good signs!
After parking our cars, we went out to the south wall to scope out the scene. As luck would have it, the swim area was calm and clear, and the ladders were mostly ice-free! So we returned to the sanctuary of our heated vehicles and suited up for the swim.
As bizarre as this sounds, it was actually quite a joy to get into the 32F water. That was because the 6F air temperature was really quite uncomfortable. So once we were able to clear most of the ice off of the ladder, we wasted very little time starting our swim.
I swam due west towards the harbor mouth and made it about 100 feet before running into an impassible area of slightly submerged ice. So I decided to do long laps between there and the swim exit ladder.
As typical this time of year, we had ice crystals form on our hood, gloves, and boots during the swim. This added an element of mirth to the activity, but it also hastened the brutal chill onto my fingertips. So even with the new 7mm gloves, I could only stay in the water for about 10 to 12 minutes before it became too unbearable on my hands. Apart from that, I was quite cozy in the rest of my winter gear.
So if any of you glove manufacturers can come up with a product that can keep our fingers warm for longer than 15 minutes, please let us know!
A tale of two ladders
Ice Monsters at the south wall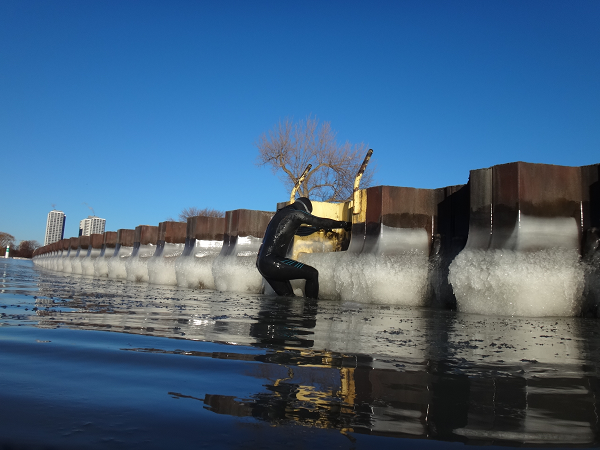 Warming up in the lake!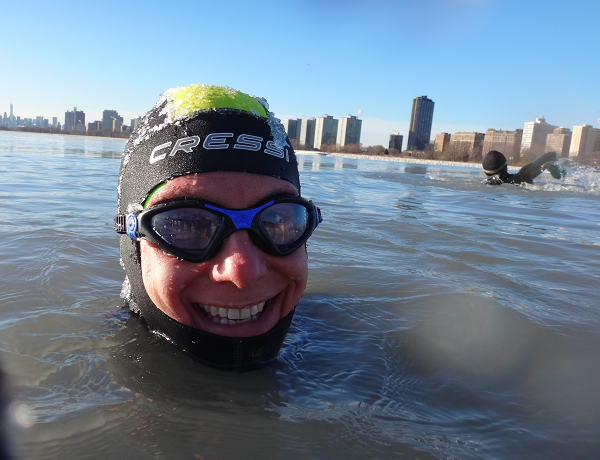 This morning's video: