Swim Report – February 23, 2014 – Return of the Polar Vortex
Last week's warmer air temperatures and high winds proved to be an effective one-two punch against all the ice wedged against the shoreline. By the time the weekend arrived, the lakefront was no longer caught in some Shackeltonian nightmare. So we had plenty of open water available for our swimming pleasure.
Mike and I met up at L1 with Martin and Elina. We got suited up pretty quickly since our hands were starting to really feel the sting of the 12F air temperature. The Ochoa brothers stopped by during their run, and we chatted with them while we geared up. Truth be told, I felt sorry for them since I was about to jump into a lake that was almost three times as warm as what they had to run in!
I kicked away a light glaze of ice off of the bottom rung of L1 and dived down into the water. Just like last week, the swim area was a veritable aquarium. I took several shots and video clips while Martin and Mike got in the lake. Mike had some issues with his wetsuit zipper and had to make a quick exit to fix things. While he stepped out, Martin and I headed south towards the beach.
I made it past the 1/4 mile mark before I ran into a layer of ice chunks hugging the wall. I pressed on, but they got worse the farther south I swam. I turned around and made a wider arc farther out into the lake to get into the ice-free areas. Martin and I started to swim back and had to do a double take when we saw two Chicago police vehicles idling on the lakefront path right by L1. Undeterred, we swam back to the exit point.
Mike joined up with us in the water shortly thereafter, and we heard one of the police officers yell out "Have fun!" before driving away north on the path. I climbed out briskly and began the painful ritual of changing out of my swim gear in our "open air locker room."
I finished my third cup of hot tea and was very pleasantly surprised to see Lisa and Ted with and their magnificent beagle, Louis. Seeing familiar faces like theirs out at the lakefront always reminds me of the warmer months. And almost as if on cue, the sun finally peeked out from behind the clouds.
It's always summer out at L1…
The pool is open!
Ice free at L1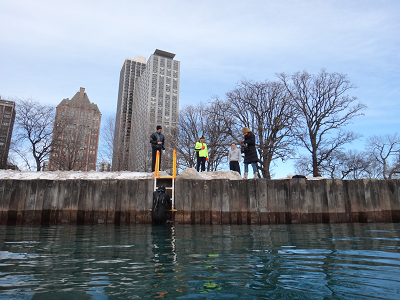 Wardrobe malfunction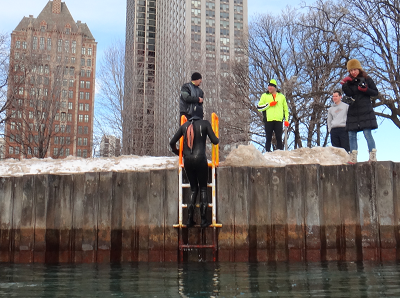 Crystal clear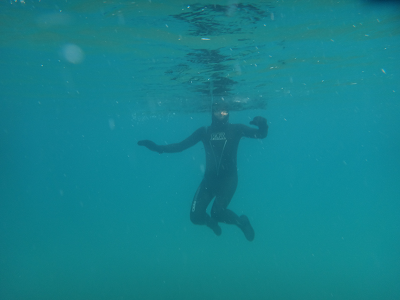 Elina getting shots of the swimmers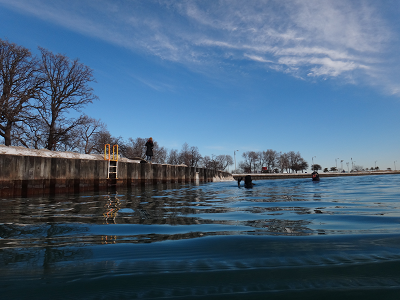 Today's dramatis personae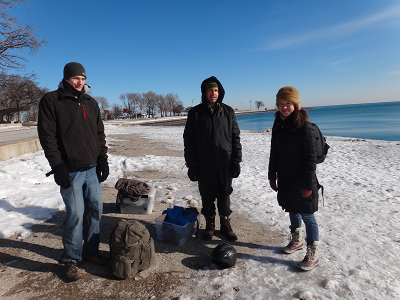 In-swim video