We were hoping to get in a swim on Sunday out at L1, and the swim area looked pretty promising from a distance. While the rest of the lake was iced over to the shore, there appeared to be a clear swim area close to the side wall near the ladders. However, once we got right to the edge of the lake, it was pretty apparent that the swim area was still one big skating rink.
Disappointed but not deterred, we relocated up to MSW in the hopes that the west/southwest wind had blown the ice layer out at that site. Upon arrival there, we were quite elated to see a vast expanse of calm and clear water about 15 feet past the ladders. But we still had to contend with iced over ladders and a thicker-than-expected ice layer hugging the entire shoreline.
We scoped out several possible entry points and eventually decided on one that looked the most promising. With the help of my trusty pick axe, I was able to clear away enough the ice from the ladder to ensure that we could get in and out easily. I then suited up and climbed down into the lake to work on the intransigent ice layer.
For the first couple of feet, it was easy to smash through it with my gloved hands. However, the ice sheet was thicker and stronger past that point, and I had to climb on top of it and use my body weight to break through it. Fortunately, this only took a few minutes.
Nick decided to do a quick dip sans wetsuit close to the ladder, while I went out for a more extended one out past the ice layer. We both agreed that the water at MSW was the clearest we had ever seen it. I did about 1/8 mile and could easily have swam much more, but we were already short on time after squandering a good 30 minutes at L1.
Still, despite only getting in brief swim, it was nevertheless a very pleasant one. With the calm waters and abundant sunshine, even the 14F air temperature was quite tolerable. So we are definitely acclimated to winter at this point!
P.S. Big thanks to Elina for showing up on such a brutally cold morning to photograph our follies and exploits!
L1 and the skyline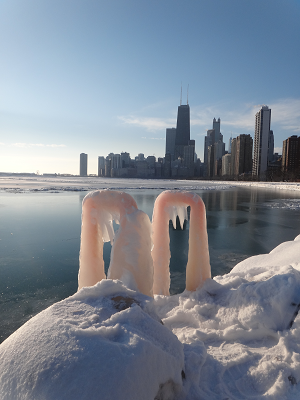 Tools of the trade
Nick scoping out the swim area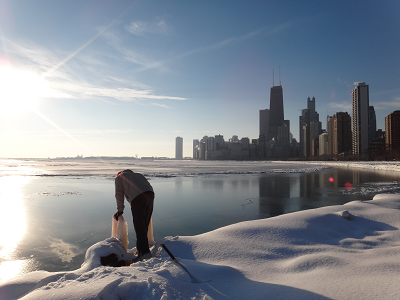 Nick and Elina at the MSW site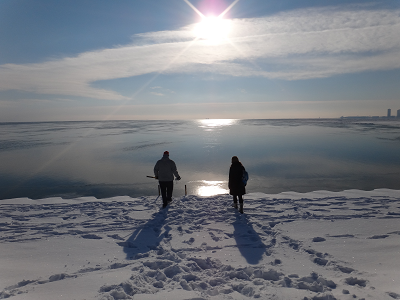 Video at L1: