Swim Report – January 12, 2014 – Return to L1!
Martin and I met down at MSW at 9:00am, and the swim area was an absolute nightmare. The south winds had pushed all the ice floes against the wall, and the ladders were all iced over and completely inaccessible.
On a long-shot bet, we decided to relocate to L1 to check out that swim site. The good news was that the L1 swim area was completely clear. The bad news was that L1 itself was completely encased in ice as well.
Given this very frustrating dilemma, there was only one thing to do – break out the hammer(s) and get to work!
I started at the top of the ladder and managed to clear the top half of L1. By that time, the sun had intensified and the ice was starting to get slushier. I was soon able to clear a path to the edge of the wall so I could begin clearing the ice between the rungs going down to the water level. It was very slow going, but things started to really progress once the both of us were on the job.
Finally, after more than 20 minutes of hammering, Martin and I managed to clear off enough ice so we could safely enter and exit the lake (success!). We were already pretty heated up from all the hammering, so getting in the lake was actually quite a relief!
All in all, we swam halfway to Oak Street Beach before turning back – about 1/2 mile total. Even in the distance, we could tell that Oak Street Beach itself was not accessible due to ice. So L1 was really the only way in or out of the lake.
Below are the pics and video clips. Wish you all had been out there with us!
The mess at the Montrose South Wall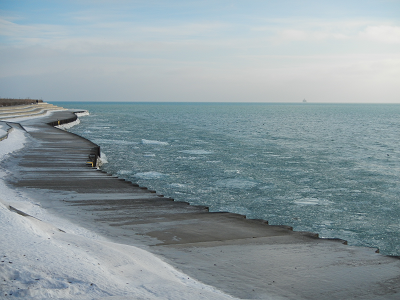 The mess at L1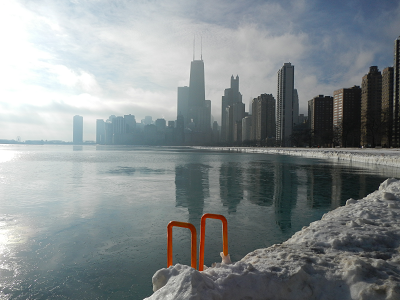 Martin working on clearing the rungs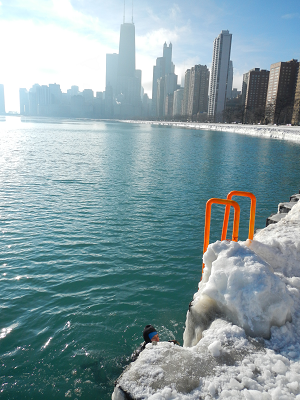 Success!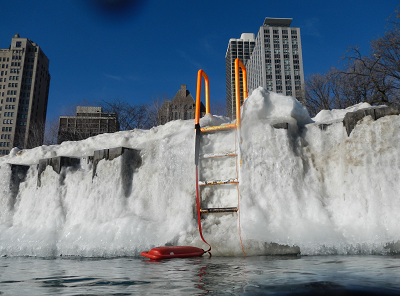 Victory laps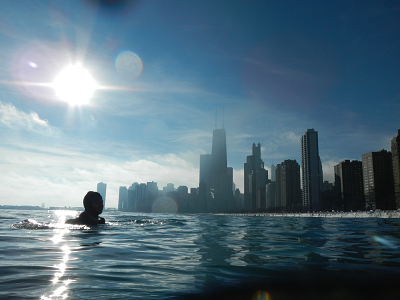 Post-swim Ice Monster recovery area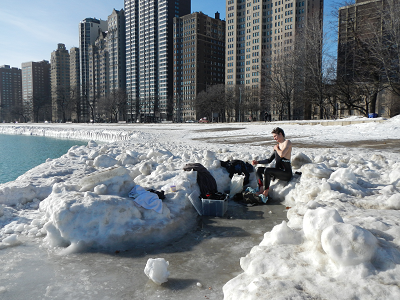 Video compilation