Even though we still have two weeks left of autumn, you would've had a hard time convincing me that it wasn't mid-January on Sunday…
It was a brisk walk out to L1 in the 22.0F air, and the lakefront was largely abandoned save for a few hardcore runners. There was a mini skating rink around the L1 area, but the ladder itself was clear – or at least not encased in ice completely.
I wasn't expecting the lake to have stayed at last week's 38F reading, so it was no surprise that the surface temperature came in at 35.2F. Colder than last week for sure, but practically at the limit of what we have to endure at the low end of things. So after an extended period of conversation/procrastination, we donned our winter gear and got into the drink.
Like last week, the water had a murky green tint that is typical of the post-fall turnover "winter layer." But it was quite calm, and we didn't have any pesky wind to contend with. So I was able to get in just under 1/2 mile without any real difficulties.
The colder air temperature really reared its ugly head after we got out of the water and started to change back into our civilian clothes. Our already cold hands were further plagued by the frigid air, making the transition process go slower than we had desired.
But we gutted through it all and made it back to our respective warming chambers (i.e. cars) just as the infamous afterdrop was making its grand entrance!
A frigid L1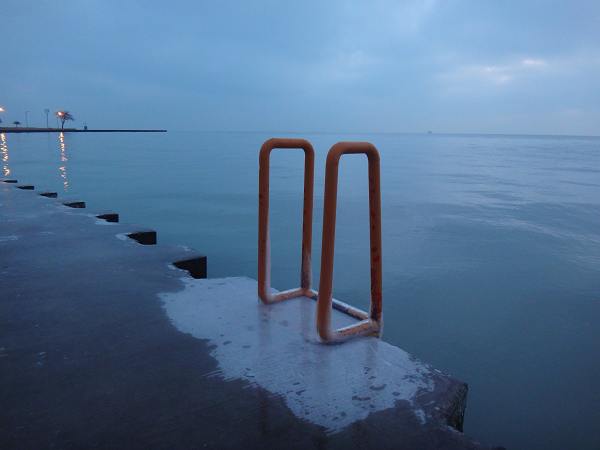 Ice Monsters in their element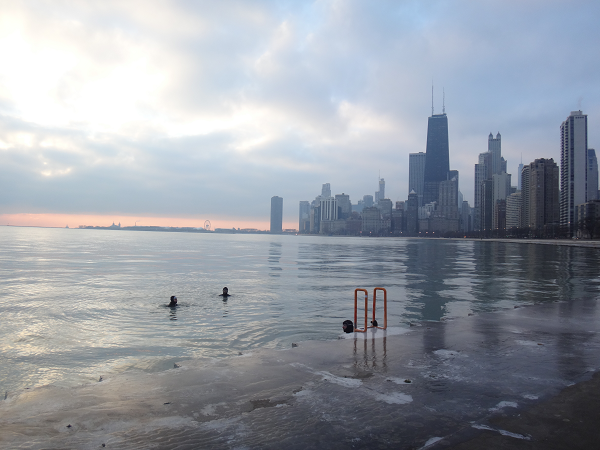 Hints of January