Two years ago, I predicted that the Point to LaPointe 2-Mile swim would become "one of the preeminent open water swim events in the Midwest – if not nationwide."
Well folks, it's definitely there!
The swim is still mostly a Midwest event with the majority of the racers hailing from Minnesota and Wisconsin. But the iconic race sold out at 300 participants and drew competitive swimmers from as far away as New York, California, Florida, and Oregon – far eclipsing the 15 community swimmers who were once the bulwark of the event.
Bottom line, for better or worse, the Point to LaPointe 2-Miler has officially become a serious competitive swim event.
So let's talk about the actual swim now, shall we?
The race day morning ushered in partly overcast skies accompanied by slightly cooler but quite pleasant air temperatures (est. 65F). An unusually warm Midwest summer gave us 70F water temperatures, making the swim quite palatable in our extra neoprene layers.
Based on previous event conditions, wetsuits were strongly recommended – if not implied as a requirement. I only saw four participants without wetsuits, and I understand that they had to get special permission from the race director to do so. In retrospect, I should have done this as I was quite toasty in my Xterra fullsuit. But I did appreciate the extra buoyancy…
The swim started off just as I remembered two years ago. The large throng of male swimmers salmoned its way out of the Bayfield harbor area to the first swim buoy before finally spreading out and settling into a groove. The equally numerous female swimmers followed eight minutes later with the small band of community swimmers rounding out the "caboose" of the water train.
Sighting was much easier this time around thanks to relatively calm waters and three gigantic yellow balloons (dirigibles?) tethered to the finish line. In fact, I didn't even pay attention to the other swim buoys lining the race route – I just pointed at the helium-filled lighthouses during my entire time in the water.
I kept a constant swim pace (much faster than I usually do out at L1) and made pretty good headway until about the one-mile mark, when a slight breeze moved in from the south/southeast. This was the exact opposite of what happened two years ago – which gives you an even better appreciation of how unpredictable Lake Superior can be!
This south/southeast sustained wind created a subtle but insidious current which added an extra quarter mile (or more) to the race distance for a number of swimmers. I managed to power through this current, and I'm fairly certain I stayed on a relatively straight course. But it would be quite interesting to see a GPS map of my swim route as I highly doubt it was as linear as I imagined.
I hammered the last 1/8 mile and reached the finish point at 1:17 – quite glad to be out of the water by that time! But the clouds had dissipated by then, and the sun was out in full force, bringing us another perfect high summer day. And as ephemeral as these can be in the northern Great Lakes, one can't help but celebrate.
Swim finish lane
Looking back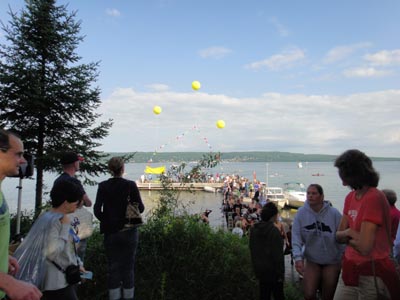 Sea caves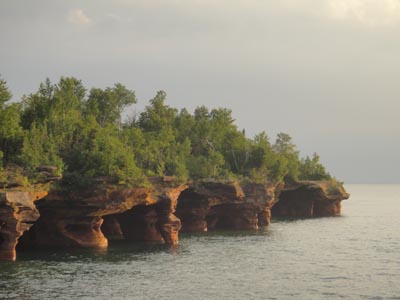 Sandhill cranes
Raspberries!