Swim Report – August 3, 2013 – One Tough Swim at 6:00am
We've definitely crested the hill of summer and are now at the beginning of the down slope. The sunrise times are noticeably later in the morning which, on the bright side, means that we can start our swims a bit later than 5:30am. But given a choice, I'd take a 5:30am swim time over extra sleep if it means having a longer day…
The air was a crisp 65F when I arrived at L1, a direct consequence of a later occurring sunrise. But unlike last week, we had a clear horizon to the east and a fantastically warm lake temperature of 72F. So we knew that once we got started with the swim, the sun would make its grand entrance and things would warm up pretty quickly – which is exactly what happened.
We began our swim in a somewhat agitated lake that proved to be much more of a challenge than it appeared from the shore. And the combination of swells and chops intensified throughout the swim, with some rather vigorous waves greeting us at Oak Street Beach.
Nevertheless, we powered through the southbound swells on our way back, essentially getting twice the workout of the first half of the swim. And while I certainly can't speak for the others, I was done for the day by the time I reached L1!
L1 at daybreak
Sunrise shot from mid-swim in the chops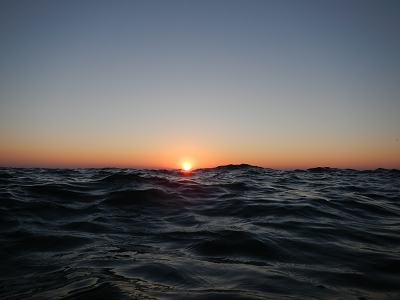 A wavy Oak Street Beach!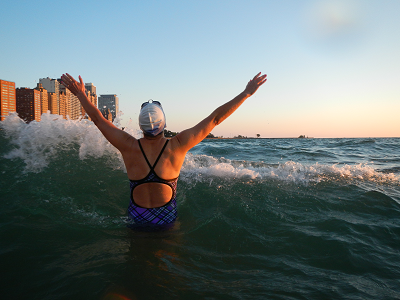 Group shot at the halfway point
Obed, Lake Monster 257 (congrats!)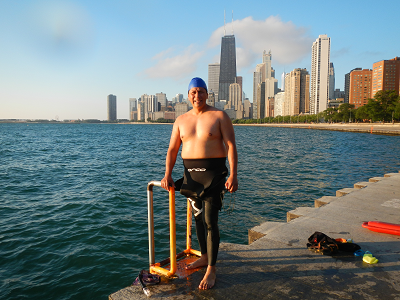 Chris, Lake Monster 258 (congrats!)
Post-swim group shot of the intrepid Lake Monsters!
Video at the beach!