There is a swim ban this weekend at all Chicago beaches due to "water quality issues." This is because the Metropolitan Water Reclamation District of Greater Chicago (MWRD) opened the Wilmette and Chicago River locks at 2:30am on Saturday morning and released large quantities of sanitary sewage diluted in part by the sudden influx of stormwater.
Let's examine how the sewage got there in the first place.
Chicago has what's known as a combined sewer system. Under this design, all of the sanitary sewage as well as any incoming stormwater eventually makes its way to a shared outfall pipe or reservoir: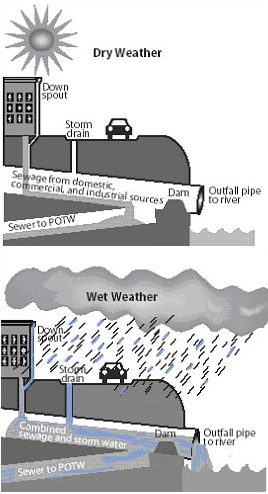 (Source EPA)
In contrast, many municipal sewer systems constructed after WWII collect and drain stormwater in drainage lines which do not mix with the sanitary sewage drainage systems. These are appropriately termed separated sewage systems: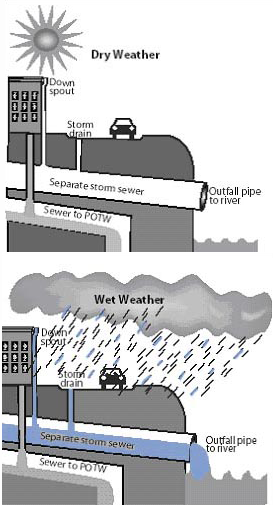 (Source EPA)
As the first image indicates, sudden and heavy rainstorms can very often deluge a combined sewer system with excess stormwater. When this happens, the combined sewer overflows (CSOs) can overwhelm the shared outfall pipes and reservoirs and cause unwanted flooding and "backups" in both the sanitary sewage lines as well as the storm drain systems: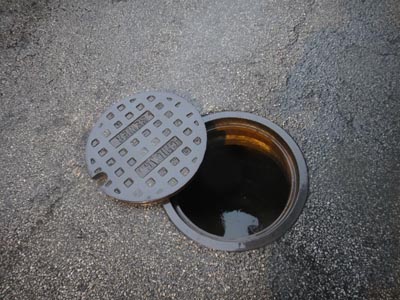 To prevent these occurrences – or to at least mitigate them – the city of Chicago and the MWRD designed and developed the Tunnel and Reservoir Plan, a.k.a. the "Deep Tunnel." Commissioned in the mid-1970's and still under construction, the TARP is essentially an expanded reservoir system for CSOs that take place during heavy rainfalls.
Unfortunately, an especially heavy rainstorm will still occasionally overwhelm the TARP.

When this happens, the MWRD will divert the excess CSOs to any number of permitted outfalls – most of which empty into the Chicago River, the Calumet River, and the Chicago Sanitary and Ship Canal.
However, under sustained storm conditions, CSOs from these permitted outfalls can actually overwhelm these river and canal systems as well. Under this scenario, the MWRD will open one or more of the river locks such as the Chicago Harbor lock, the Wilmette lock, or the O'Brien lock in order to prevent flooding.
And when these locks are opened, CSOs (combined sewer overflows) enter Lake Michigan and contaminate the water.
The good news is that this doesn't happen very often. And theoretically, this shouldn't take place at all once the TARP is fully completed and operational by 2019 (estimated).
But in the meantime, you might want to educate yourself on the risks E. Coli exposure and be wary of the conditions at those Chicago beaches more prone to pollution.