This is a guest post from Bob Cavallo. Bob is an active open water swimmer who's our local voice for the Indiana lakeshore. Welcome Bob!
——————————-
Hello from Indiana!
I swim during the week at the Hammond Beach, just Southeast of Chicago. It's not the most beautiful beach on Lake Michigan, but it's convenient and better than a pool. It's situated between the Hammond Marina and the State Line Generating Plant.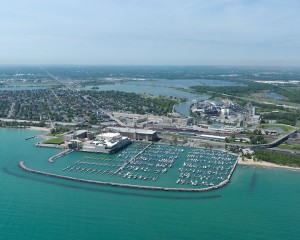 The beach is about an 1/8 mile long between buoys. But if you get out early in the morning before the boaters, you can swim the full length of the beach (about 1/2 mile).
Tonight was the first evening I could get back into the water since last weekend. Between E. Coli (thanks Chicago), storms and cold water I haven't done much. This evening the water temperature was comfortable to swim in and the lake was very calm.
Thanks again Steve, and in the future I will post about some of the other beaches along our Indiana lakefront!