Chapter 3: Gear Selection – What to Wear During Winter Swim Conditions
When the lake temperature dips below 55F, a strange thing happens – namely, most people decide that it's too cold to continue enjoying the fun and adventure that accompanies outdoor swimming. And that's a shame, really, since it doesn't have to be that way.
The truth is that – with the right equipment and preparation – you can comfortably swim and train in the lake year-round.
In this chapter, we're going to look at what type of equipment you might need to accomplish this. I say "might" because everybody has his or her own level of tolerance to various temperatures. So while one person might be able to swim comfortably in 45F or below water temperatures in just a swimsuit, cap, and goggles, for others this is nothing short of a Herculean challenge.
So for now, I'm going to describe a gear setup that we've settled on after much experimentation. You may find the need to adjust up or down based upon your own physiology and tolerance to colder water. But we've found that this works for most people who've come out and braved the lake with us during the coldest months.
Jammers
The first layer is whatever you would normally wear when swimming. I use swim jammers since they fit well under a wetsuit.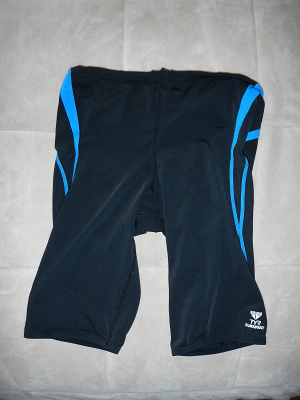 Wetsuit
Believe it or not, we all use regular triathlon fullsuits that are designed for swimming – not heavy duty scuba wetsuits or drysuits. These typically have 3mm neoprene on the arms and back with slightly thicker layers on the chest and legs to assist with buoyancy.
Once you get over the initial shock of the cold water entering the suit, the layer of water warms up pretty quickly and you can swim quite comfortably without needing to resort to a scuba wetsuit or drysuit.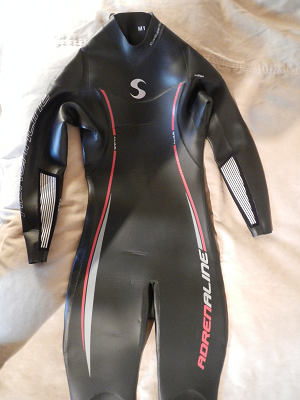 Neoprene boots
We all use neoprene dive boots to keep our feet warm. I currently use Bare 7mm Cold Water Tall Boots, and they work quite well: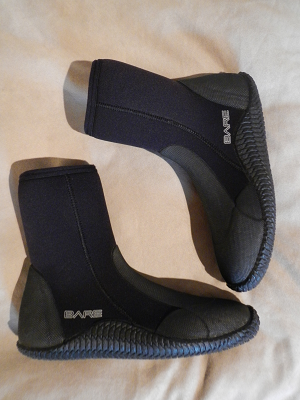 Neoprene gloves
This is the only area where we are still experimenting. I currently use the XS Dry Five 5mm gloves. They're slip ons, but they do a pretty good job of keeping out the water if placed on properly. The problem is that it's often ridiculously difficult to put these on with one hand already gloved.
I tried out other 5mm gloves with velcro wrist fasteners, but they just didn't seem to work as well as the slip-ons. Bottom line, we still have yet to find a neoprene glove that keeps our fingertips warm for more than about 15 to 20 minutes in the water once it goes below 40F.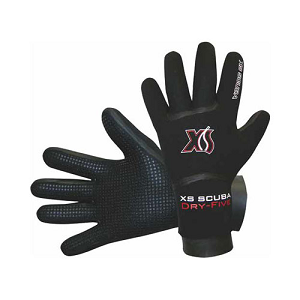 Silicone swim cap
I wear this underneath my neoprene cap to add an extra layer on my head and to keep the cold water out of my ears: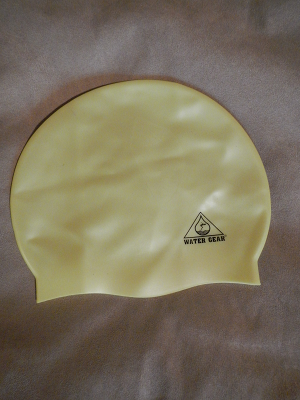 Neoprene dive hood
I use a Cressi Castoro 5mm Hood. The other swimmers use similar scuba hoods, but they have bibs on theirs. I've never gotten comfortable swimming with a hood that has a bib, but everyone else seems to be fine with it.
One plus of having the bib is that it helps protect your neck from the cold water. With the Cressi hood, there's a small part of the back of my neck that's still exposed. It's a bit of a cold shock (literally) at first, but it doesn't bother me after a couple of minutes.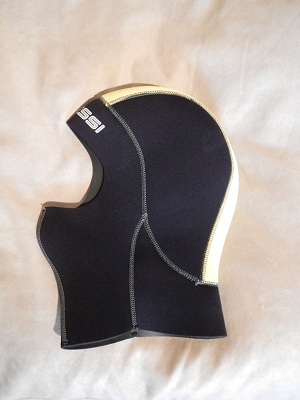 Goggles
I use standard swim goggles. I used to use larger ones that covered more of my face, and these do make a difference in the cold water. But I now just put some petroleum jelly on the exposed parts of my face, and that works fine.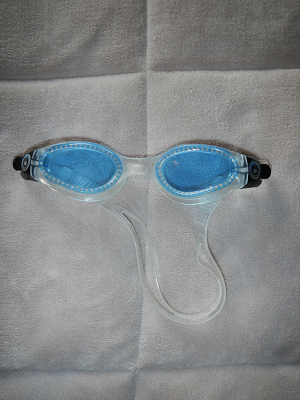 That's it! Now you should be all set when it comes to winter swim gear!