(Bonus) Swim Report – July 27, 2015 – Marton's Send-off
As most of you know, I was out of town the weekend of the 25th. So I missed out on the informal gathering out at L1 where Marton had his last swim (for a while at least) with a bunch of other Lake Monsters. However, Marton and I had previously discussed getting together up here in Evanston for a send-off swim before he headed back across the pond.
Needless to say, neither of us needed any convincing to get back in the lake again!
We got up super early that day, and I met Marton out by the Central Street El station. He was biking it, so he followed me a mile east out to Lighthouse Beach. We stashed all our stuff in my car save for the essentials (goggles, swim cap, camera, etc.), and we headed out to the shore.
It was already 78F at 5:00am, and the first hits of daybreak were forming out on the eastern horizon. Since we were planning on doing a long, leisurely swim, we got in the lake right away and started swimming due east – straight out into the lake.
The lake temperature – which couldn't have been any more perfect – came in at a refreshing 71.6F. And the lake was as clear as I have seen it since we had the spring turnover in late April.
Marton swam breast stroke the entire time, and I did mostly free stroke with some occasional stretches of breast stroke. This gave us plenty of opportunities to chat while we were in the water waiting for the sunrise. We estimate that we were roughly 1/2 mile out in the lake when the sun finally crested over the water.
Words cannot describe the sensation of being out in the lake at the dawn of a new summer day. The lighting and colors of daybreak were nothing short of breathtaking.
We stayed out there for quite some time, chatting some more and taking lots of photos, before we reluctantly decided to head back. As with the swim out, we took our sweet time getting back, finally landing ashore at Lighthouse Beach – just in time to interrupt a beachfront yoga session!
As with all these swim reports, I'll let the pictures speak for themselves.
And as for Marton, we will miss you my friend! Chicago winters will not be the same without you in the lake!
Lighthouse Beach at 5:00am
At the 1/2 mile mark
Dawn of a perfect morning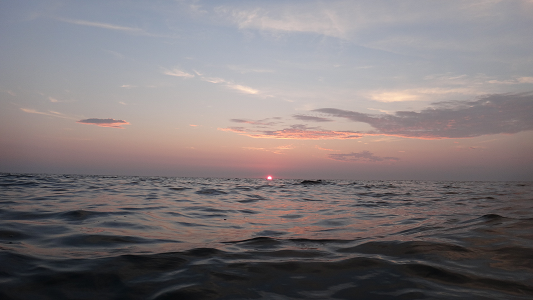 Marton beneath the surface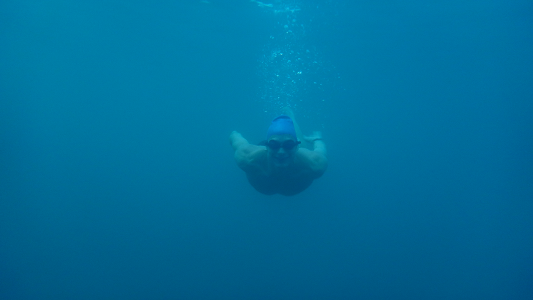 Final shots before heading back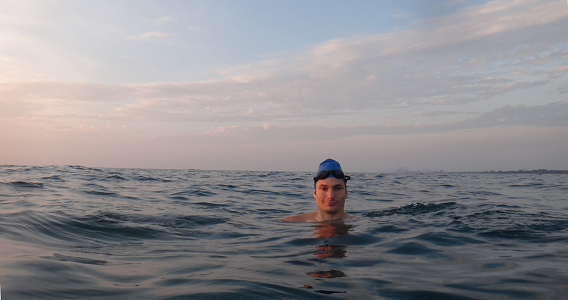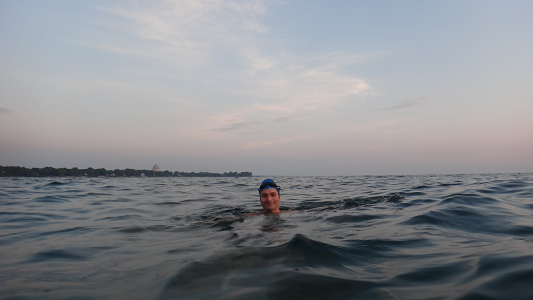 Exploring a lone boulder on the lake bottom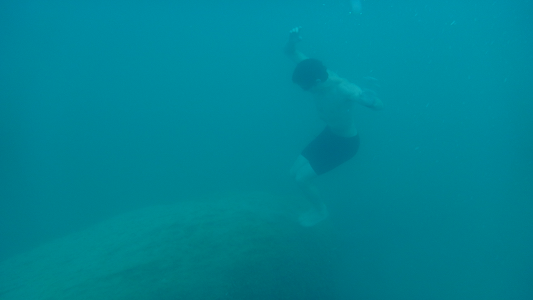 Back at Lighthouse Beach!