Winter Swimming Guide – Chapter 3: Gear Selection
Chapter 3: Gear Selection
When the lake temperature dips below 55F, a strange thing happens – namely, most people decide that it's too cold to continue enjoying the fun and adventure that accompanies outdoor swimming. And that's a shame, really, since it doesn't have to be that way.
The truth is that – with the right equipment and preparation – you can comfortably swim and train in the lake year-round.
In this chapter, we're going to look at what type of equipment you might need to accomplish this. I say "might" because everybody has his or her own level of tolerance to various temperatures. So while one person might be able to swim comfortably in 45F or below water temperatures in just a swimsuit, cap, and goggles, for others this is nothing short of a Herculean challenge.
So for now, I'm going to describe a gear setup that we've settled on after much experimentation. You may find the need to adjust up or down based upon your own physiology and tolerance to colder water. But we've found that this works for most people who've come out and braved the lake with us during the coldest months.
Inner layer
My inner layer is essentially the same thing I swim with during the warmer months:
1. Sports "dri-fit" underwear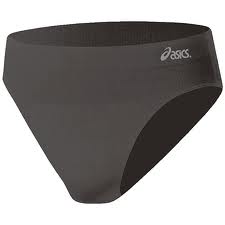 2. Swim jammers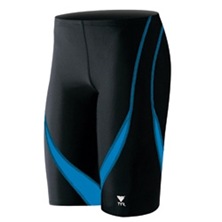 So basically, wear your normal swimwear or swimsuit as your "base" layer. I used to wear a thermo rash guard underneath as well, but I've found that you really don't need one as long as you have a decent wetsuit. Speaking of such…
Outer Layer
1. Full Body Triathlon Wetsuit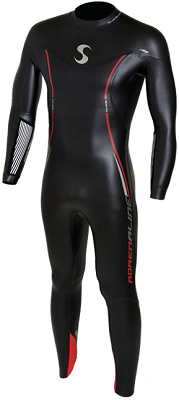 It's important to emphasize using a triathlon wetsuit versus a scuba wetsuit or a windsurfing wetsuit. The latter are not designed for swimming comfortably for extended periods of time. So you want to make sure you use one designed specifically for distance swimming. These typically have 5mm neoprene on the front areas for bouyancy with thinner layers (3mm) on the arms, back, and neck area for enhanced mobility.
But which brand of wetsuit is the best?
I get a lot of people asking which brand of triathlon wetsuit works the best for winter swimming. To be honest, I'm still figuring that out. From my understanding, all wetsuits are pretty much manufactured using the same types of neoprene. The key differences typically lie in the design and fit. So it's important to try out various brands to see which ones work best with your body style.
One thing I can recommend, though, is to NOT invest in one of the more high-end (read expensive) wetsuits if you plan to swim during the winter. These tend to be constructed with much thinner neoprene and are much more prone to nicks and tearing – which are an enhanced risk during the winter months given the presence of ice in the water. So I'd advise going with the "clunkier" lower end models versus dropping seven bills on a snazzy wetsuit that collapses like papier-mâché in the cold water.
2. Neoprene Dive Hood (3mm/5mm)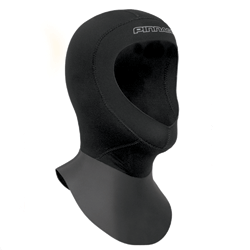 These work great for swimming, and we've been able to get by with the standard varieties. I tried out a 7mm drysuit hood, and – while definitely quite warm – it was way too constrictive around my neck.
I wear a regular latex swim cap underneath the dive hood for an extra layer of warmth and to keep to colder water out of my ears. Other swimmers just don the hood and use silicone earplugs. Either way works.
One other item – for two seasons, I insisted upon tucking the hood bib into my wetsuit. I did this because the 32F water seemed like hot piano wire on the exposed band of skin around the base of my neck. However, this greatly reduced my swim range of motion and often let in cold water through open areas in my wetsuit neckline.
I've since switched to having the bib loose, and I've acclimated pretty easily to the cold water exposure on my neck. So I now recommend gutting it out the first few times in favor of a better overall swim experience.
3. Neoprene Dive Booties (5mm)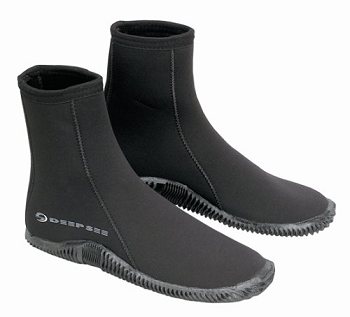 We've all had great luck with the 5mm booties. They seem to work pretty well in keeping our feet warm during the swim. Plus they're pretty flexible and allow us to maintain a fairly decent swim stroke and kick.
I've experimented with two types – the zip up variety as well as the pull ons. The former are much easier to get on and off – which is a HUGE asset in the parking lot when you need to get out of your wet gear ASAP. But the zippers can chew away at the bottom of your wetsuit and shorten its lifespan considerably. They can also come unzipped during the swim causing a horrifying rush of cold water around your ankle that requires some pretty funky in-swim maneuvering to fix.
So we're still experimenting with these.
4. Neoprene Dive Gloves (5mm/7mm)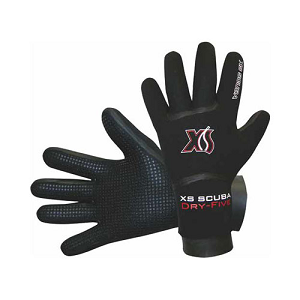 This is an area where we're also still experimenting. Nick and I use the XS Dry Five 5mm gloves. They're slip ons, but they do a pretty good job of keeping out the water if placed on properly. The problem is that it's often ridiculously difficult to put these on with one hand already gloved.
Dave and Mike use Deep See 5mm scuba gloves with velcro wrist fasteners. I used to use these and might go back since they are easier to put on and adjust. However, we all still have issues with cold fingertips during our swims, so what we use going forward might change once we find a better solution.
4. Eyewear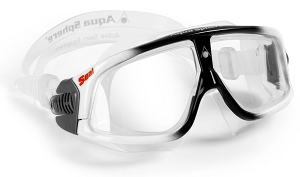 When I first started out swimming in the sub-40F water, I used a full-face Cressi freediving mask. However, since I've become much more acclimated to the cold water on my face, I now use a pair of wider view swim goggles – like Barracuda or AquaSphere. I put them on over my hood, and so far they've worked fine without leaking.
So there you have it!
This is the current setup that we use when we swim for 20-40 minutes in lake temperatures below 40F. And other than having numb fingertips on occasion, this setup works very well. We're comfortable during the swim, and we can get in a challenging open water swim workout without over-stressing our bodies.
NEXT IN THE SERIES – Part 2: Pre-Swim Preparation
Be sure to keep checking the site for the next article in this series. In this one, I'll go over the physical and psychological preparation you need to do to make the transition to swimming in these more extreme conditions. Many of these tips and techniques will also help you with acclimating to water temperatures that might not be as extreme – but are still colder than you're comfortable with right now.
Thanks for reading!