Besides Ladder #1 itself, one of the more iconic items out at the swim site is that peculiar structure that looms way out on the horizon. You see it showing up in many of the photos we take. In fact, you can see it on the banner at the top of the website.
That structure is the Harrison-Dever Intake Crib, and it's actually composed of two interconnected buildings.
The older of these two structures is the Carter Harrison Crib which was built in 1900 and named after the Chicago mayor at the time.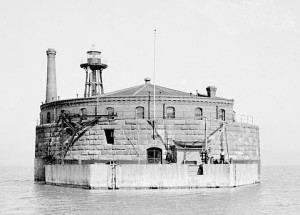 The William E. Dever Crib, also named for a former Chicago mayor, was completed in 1935 to replace the Carter Harrison crib (however, an increased demand for water kept the Carter Harrison Crib fully operational until 1997).
These days, the Harrison-Dever Intake Crib provides water to the city of Chicago by pumping it through a 20 foot diameter tunnel that runs underneath the lake and connects the water crib complex to the James W. Jardine Water Purification Plant, located just north of Chicago's Navy Pier.
A lot of Chicagoans still refer to the Harrison-Dever Intake Crib as the "Two-Mile Crib" for a couple of reasons. The more obvious one is that it is indeed located two miles off of the Chicago lake shore. However, the historical reason is that the Carter Harrison Crib replaced an even older structure called "Two-Mile Crib" which was originally constructed in 1865.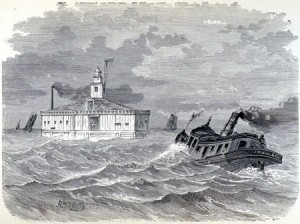 The Two-Mile Crib was connected to a tunnel built 60 feet below the lake surface, and this tunnel ran all the way back to the Chicago Avenue pumping station – which was part of the historical Water Tower complex still located today on north Michigan Avenue.
Pretty cool stuff, isn't it?