Saturday's swim started a bit late. I got out there at 6:30am to check out the sunrise, but our magnificent personal star was hidden behind a wall of clouds on the horizon. So I waited until close to 7:00am until it made its grand appearance. During this time I chatted with Jonathan, a new swimmer out at L1 for the first time (and Lake Monster #32!).
The water temperature came in at a perfect 70F but the swim area was pretty chaotic. Gone were the halcyon conditions of perfect calm just a few days earlier. Instead, Jonathan and I had to navigate some pretty ferocious chops on the way to Oak Street Beach and back. And I had to turn on the burners to keep up with him since he's a pretty fast swimmer!
But the sun was out in force that morning, and Ladder #1 once again proved to be a magnet for early morning fun and revelry. A surprise appearance by "Bogart" and "Johnson" gave me my puppy fix for the day. And Dave showed up a bit later with the inner tubes – which helped me finally earn my first Ladder #1 sunburn of the summer. Too bad I had to wait until last weekend to get it!
Final summer sunrise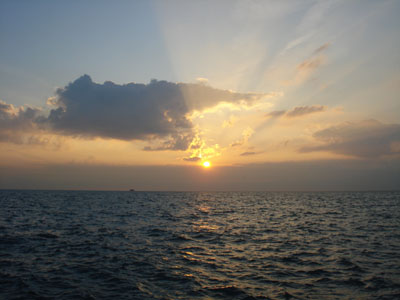 The author with Bogart
It's his town…we just live in it