Swim Report – October 24, 2009 – Unplanned Drama
I hit the hay early last night (around 9:00pm) because I knew that the extra sleep would really help take the edge off of today's expected chilly temperatures. Surprisingly, the lake came in at 54F with the outside air temperature hovering in the 42F range at 7:00am.
The great news is that OWC is now a national phenomenon. Fred came out last week from North Carolina. And this morning, Owen (a.k.a. Lake Monster #34) showed up at Ladder #1 during a visit to Chicago. He hails from the Bay Area and had contacted me a few weeks ago about joining us for a swim. We definitely gave him a good story to take home…
Owen and I suited up rather quickly since the air was quite crisp and the sun was conspicuously absent given the heavily overcast skies. I wore a full wetsuit, neoprene booties, and a thicker latex swim cap. The water was completely calm and a surprising 54F. We did a full mile to Oak Street Beach and back at a fairly brisk pace. During the return leg, I typically sight on three white squares that are painted on the retaining wall. But Ladder #1 was clearly visible from the beach thanks to all of Dave's efforts.
The "adventure" took place during the last 1/4 mile of our swim. Apparently, one of the high rise dwellers saw my bicycle and all my stuff at Ladder #1 and speculated that some poor distressed soul had decided to say goodbye to the cruel world by jumping into the lake for a final plunge. So Owen and I got a police boat escort and were monitored by the scuba team until we got out of the water. The ironic thing is that no one was concerned about us swimming – it was the messy pile of all my clothes on my bike that raised a red flag. I truly need to work on my housekeeping skills…
Flinty skyline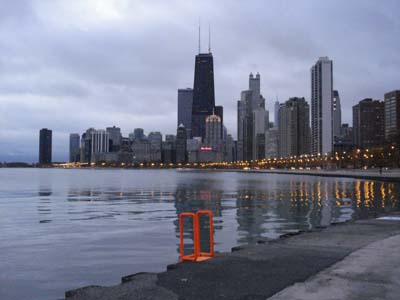 Owen, Lake Monster #34