Swim Report – October 17, 2009 – Rough Seas!
Brief but intense would be a good way to describe this morning's swim. I was expecting water temps in the 53F range, but the mercury came in at 48F – still much higher than the 40F air temp. Carol came out as well as Fred, a new Lake Monster and now part of the sub-50F club.
We had choppy water conditions with fairly large swells. Because of this, we chose to do 1/4 mile laps back and forth from Ladder #1. I wore my thermo shirt under my wetsuit which proved to be too much insulation. I did, though, greatly appreciate the neoprene foot covers.
Overall a great swim workout as far as physical exertion. We didn't worry too much about technique or finesse. In these conditions, it's all about managing the elements and powering through the chops. It's never pretty, but it sure is fun!
Sunrise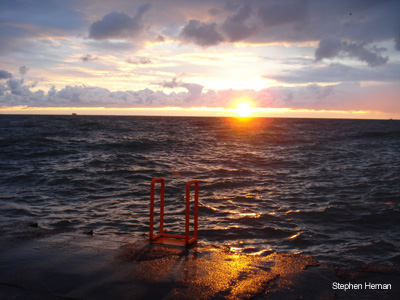 Fred, Lake Monster #33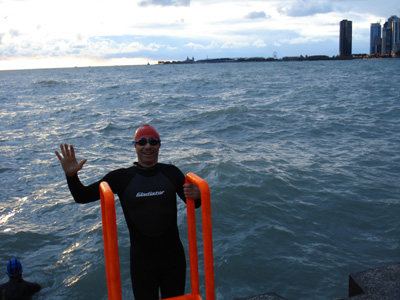 Treading water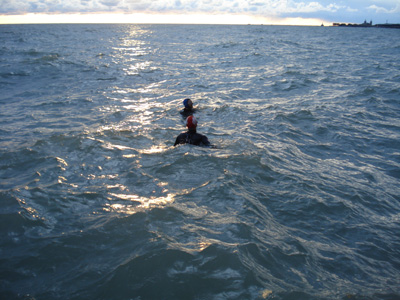 In the arena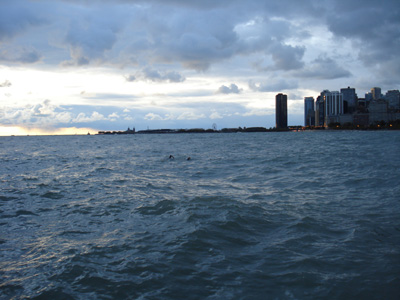 Today's Ladder #1 footage
[youtube=http://www.youtube.com/watch?v=afD8RgPrIKc&rel=0&color1=0xb1b1b1&color2=0xcfcfcf&feature=player_profilepage&fs=1]