Lake Michigan has held fairly steady in the 55F+ range. But we've noticed a recent downward trend in the water temperatures that most likely indicates the beginning of the fall turnover.
To give you a quick overview, during the summer the warmer air temperatures and longer periods of sunlight heat up the lake causing it to form three separate layers: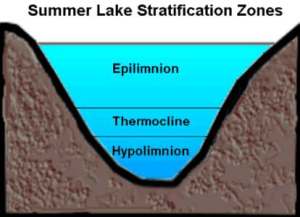 Candidly, I don't think we every really got a very deep epilimnion layer this summer. And with a colder thermocline lurking not too far below the surface, it's easy to see how we had that goofy 55F cold spell in August that sent everyone shrieking out of the water.
But the fall turnover is something far more enduring. This takes place when the weather cools down during autumn and the sunlight diminishes on both ends of the day. As the surface temperature drops and the increased winds churn up the lake, the thermocline gradually deepens until the colder bottom layer starts to mix with the upper layers. This phenomenon is known as the fall turnover.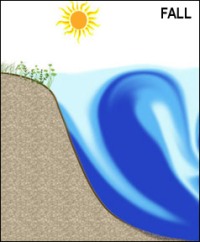 Once the fall turnover takes place, we are at the "point of no return" as far as water temperatures are concerned. The lake will eventually form another surface layer during the winter months, but this will be much colder – and will eventually freeze over. The rest of the lake will be a uniform 39F until the spring winds, air temperatures, and sunshine mix up Lake Michigan for the spring turnover.
The key is, there's no such thing as an "Indian Summer" when it comes to deep lakes like Lake Michigan. Once the fall turnover arrives, say goodbye to 50F+ water temperatures.
At least until spring…