October sure came in like a hellion with overcast skies, three foot swells, and a 59.9F lake. So much for Indian Summer!
An intrepid group of swimmers met out at L1 on Saturday to usher in the new month. Despite the later sunrise and swim start time, it took a while to shake off the sluggishness that accompanies a cooler autumn morning. But we managed to limit our procrastination enough to get in the lake before 7:00am!
The high winds from earlier in the week had churned up the lake to the point that water visibility was near zero. However, we didn't have any sneaky thermoclines to contend with – just a uniformly cold Lake Michigan. So once we got in, we acclimated pretty quickly.
The swim south to the beach was deceptively easy because the winds from the north had created a current that pushed everyone along. This became quite apparent on the way back as we found ourselves swimming directly into the wave crests. So we had to put in a bit more effort to make it back to L1!
Overall, though, this was a milestone swim in that we finally "cracked the floor" – i.e. broke through the 60F mark. And the way Lake Michigan works, we probably won't see that again until some time next May!
Skyline at dawn
The morning crew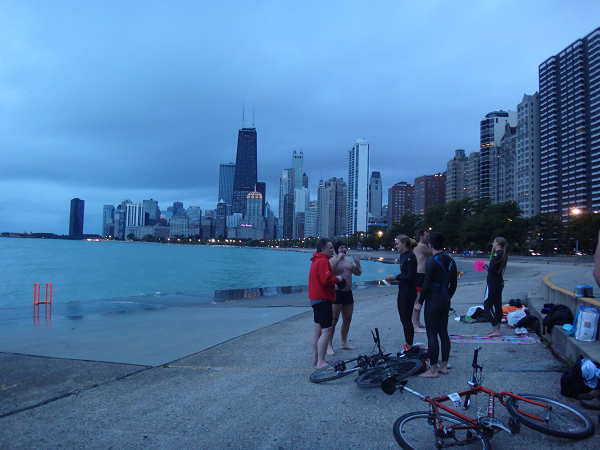 Oak Street Beach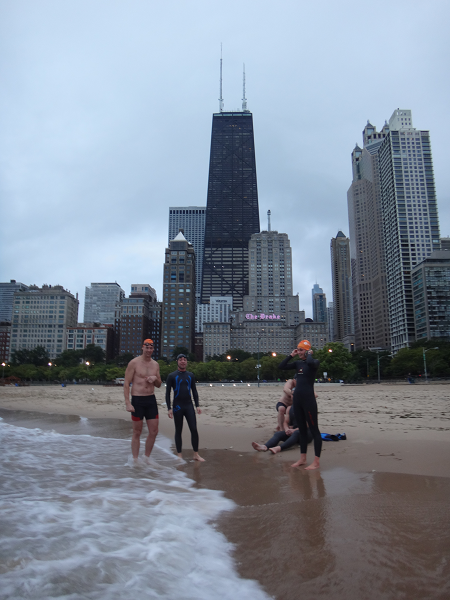 Peter, Lake Monster 428 (congrats!)