Swim Report – May 7, 2011 – Brief sunrise and chilly waters
The forecast was iffy for this morning due to threats of rain and thunderstorms. But fortunately, no tempests greeted us when we met out at L1 shortly before 6:00am. The shore temperature per the marine report gave a lake temp of 54F. But I'm estimating it was closer to 52F due to the lack of sunshine.
Matt, Mike, and Nick braved the drink with just a swimsuit and capfor the out-and-back mile. I went with a DeSoto fullsuit top, swim jammers, and a neoprene cap and was darn glad that I did! I was somewhat shivery after the swim, but nothing compared to the other fellows.
But the water was calm, clean, and clear – an absolute joy to swim in. And the colder temperature puts one in a profound state of relaxation that you really have to experience yourself to appreciate.
So where were you this morning?!?
Pre-swim vista at L1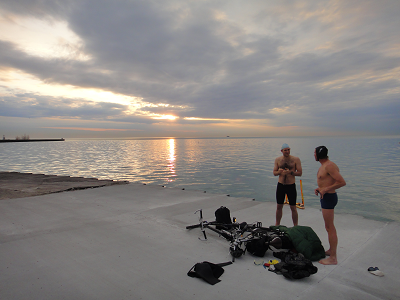 Lake Monsters enjoying the post-swim "afterdrop"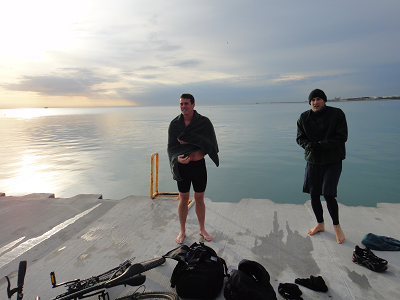 Sunrise video