Swim Report – May 5, 2012 – Return to the fog!
The sun had already risen by the time I arrived at L1. But you wouldn't have known it from the conditions at 6:00am!
I met up with Nick at the appointed time, and visibility was near zero due to the fog. Nick's thermometer gave us a 52F water temperature, and we had a southbound sustained wind that made the 58F air temperature seem much colder given the complete absence of sunlight. I deliberated doing only a 1/2 mile swim. But I succumbed to peer pressure, and we took off from L1 towards the beach.
The lake was quite bracing, but it lacked the sharp bite it had last week. So there was never any time that I felt overwhelmingly cold. Plus it was surprisingly clear given the agitated post-storm conditions.
We rendezvoused very briefly at the beach and quickly turned back to prevent ourselves from cooling down. The swim back was directly into a sustained southbound wind and 3-4 foot swells – so we definitely got our workout!
P.S. Thanks to the Chicago Park District for re-painting all the ladders! The bright orange was definitely quite visible on the way back!
Pre-swim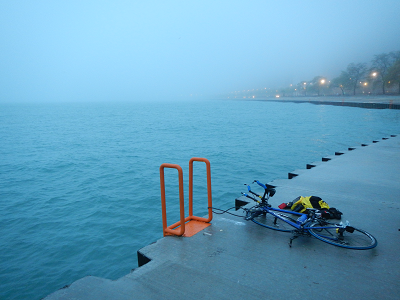 Post Swim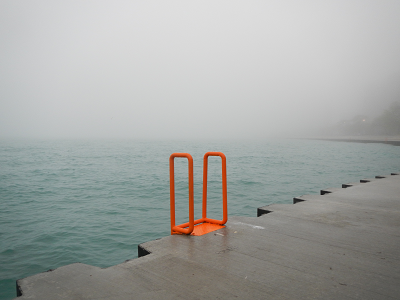 A final look back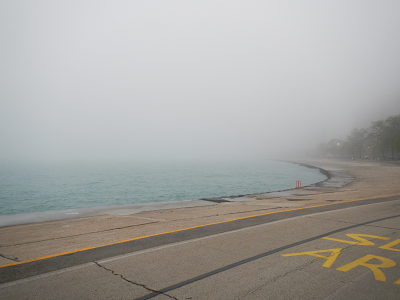 This morning's video: