Mother Nature threw everything at us this morning, but we still got in a swim!
I met Nick at 6:30am out at L1 amidst a downpour, and we hung out underneath the Chess Pavilion deliberating our options. L1 was a complete mess with 6-8 foot waves and very chaotic chops. The lake came in at 44F, which was actually rather balmy compared to the 40F air temperature. So based on the crappy conditions, we pulled the reserve chute and hightailed it down to Ohio Street Beach.
Fortunately, I was able to nab one of the parking spots just on the other side of the pedestrian tunnel (with an added bonus of free parking until 8:00am!). So we gathered all our essentials and went out to the beach.
While the lake was less hectic out at OSB, we still had 3-5 foot waves to contend with. We also had east/southeast sustained winds of 15mph and zero sunlight. Given these niceties, we decided to to a 1/2 mile each was "dash and splash."
We trotted up to the 1/2 mile point and got in the drink as quickly as we could. The winds had picked up, and there were some heavier waves for the first 100 meters. But we slogged through to the beach, where we quickly changed and sprinted back to the car.
It took about 15 minutes for us to thaw out, even with the heat blasting on high and a thermos full of hot coffee. But the afterdrop subsided as quickly as it arrived, leaving us both too exhilarated to care about how exhausted we really were!
No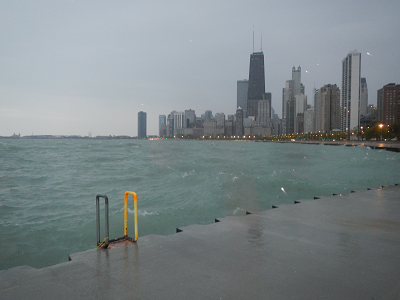 Yes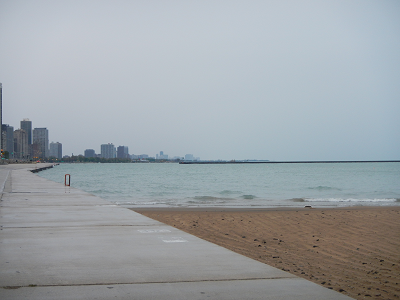 Today's video