This was our first real hot weather day out at the swim site. The air temp came in at 69F at 7:30am with plenty of sunshine that promised to make things even warmer during the swim.
The lake temp read 56F, so I decided to go with just my jammers and thermo shirt along with a neoprene cap. I was fine for the swim – although I did admittedly swim at a very brisk pace. The only challenge was dealing with the afterdrop when I got out of the water. But by that time the air temp was around 78F and climbing! In fact, if you didn't look at the calendar, you would have sworn it was July!
A busy swim site


Congrats to our new Lake Monsters!
John – #44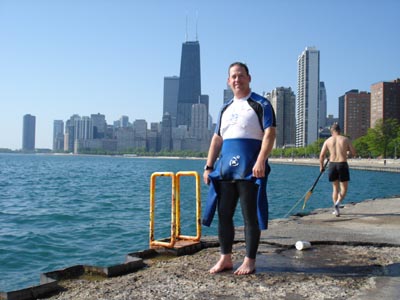 Matt – #45
George – #46