Swim Report – May 13, 2017 – Back on track!
After an unexpected dip in the lake temperature last week, we lucked out with an in-swim temp of 54.0F yesterday morning. And if that wasn't great enough, we also had phenomenal swimming conditions!
As we get closer to the summer solstice, the sunrise times are getting earlier and earlier. So it can be quite challenging to muster enough motivation to leave the comfort of one's warm bed in exchange for a 5:30am cold shock immersion. Nevertheless, we persisted…
I fortunately arrived early, so I was able to get my mandatory blonde roast at the Cool Starbucks on Clark Street (versus at the pretentious one on Wells). So by the time I finished the walk down to L1, I was properly caffeinated and in a much better pre-swim state of mind!
The lake was smooth as glass, and the surface temperature came in at 54.6F. So I chose to go in with just my jammers, thermo cap, and a healthy layer of shea butter. Since we had a calm, windless morning with plenty of sunshine, I wasn't worried about the lake temp at all. And while it was a bit crisper than I had anticipated, I got used to it right away.
Because there were no waves or chops, it was ridiculously easy to maintain a smooth and regular swim rhythm. I used this rare opportunity to work on my bilateral breathing and to monitor and correct my woefully inconsistent swim form. But I also spent a fair amount of time just enjoying the luxury of a calm lake!
I ended up doing a 1/2 mile swim, but it was a point-to-point one this time. I decided to keep on going at the 1/4 mile mark and continue on to Oak Street Beach, making my first beach landing of 2017 (yay!).
The walk back to L1 was quite tolerable since it was still sunny with an air temperature of 56F and climbing. I did a few sets of sprints along the way to stave off the afterdrop which tried desperately to break through several times. But with the warmer days and higher lake temperatures, I think we can finally say good riddance to our old post-swim nemesis for a while.
And I'm perfectly fine with that!
Daybreak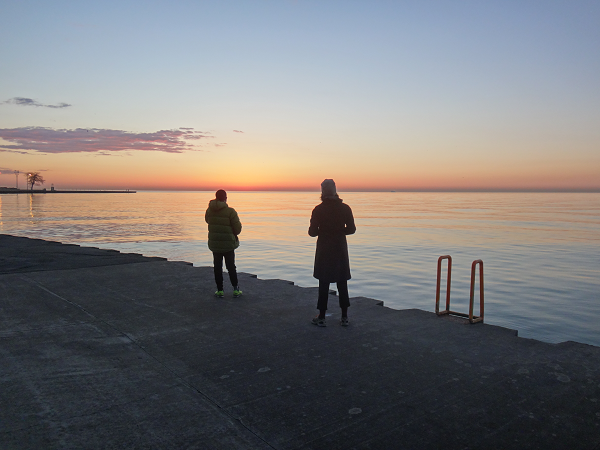 Sunrise
Lake Monsters pre-swim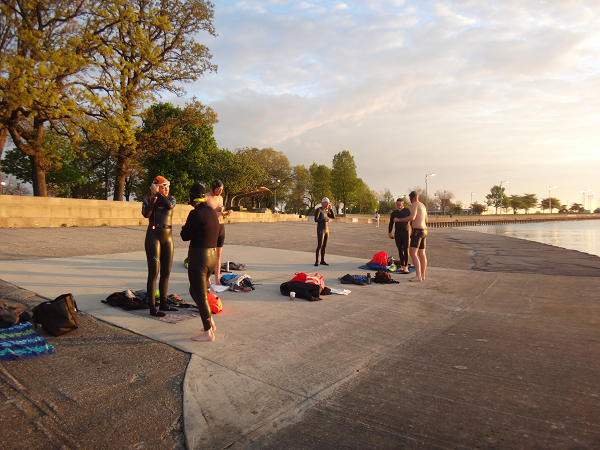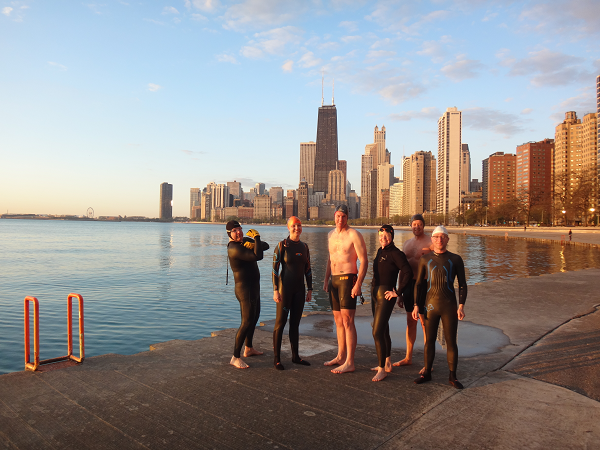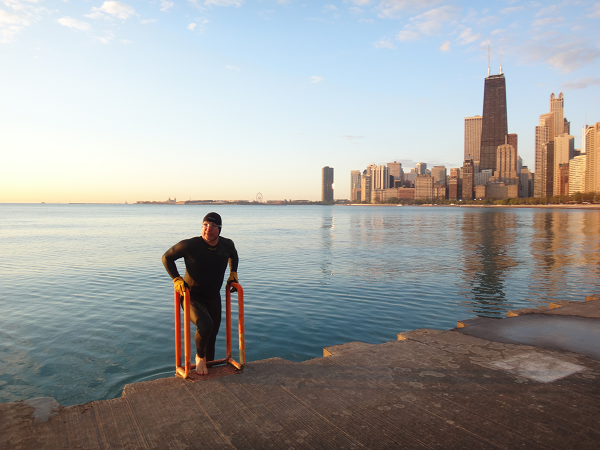 Skyline action shot
Beach landing!
On the walk back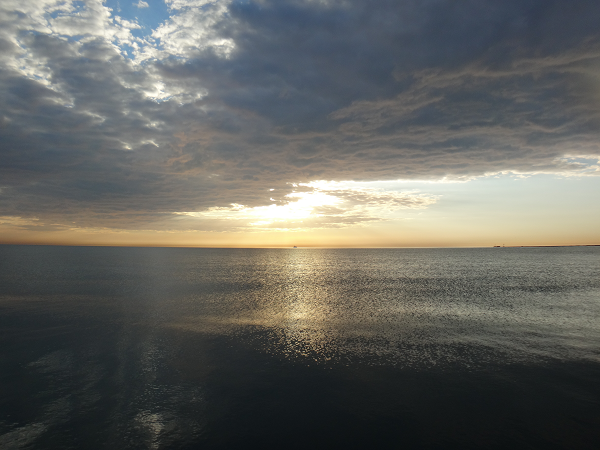 Swim finish!
Lola makes an appearance