The kinder, gentler weather we've been enjoying during the week took a rather abrupt turn on Saturday morning. Suffice to say, we just weren't feeling the Spring love from Ma Nature!
I managed to snatch rock star parking on Astor Street, so I had a chance to finish my hot coffee in peace before facing the howling, bitter wind outside. But all bets were off once I reached L1!
The air temp reading came in at a blustery 42F, and we had some rather ominous clouds that seemed ready to bloom into a storm at any moment. Fortunately, we were able to get in the lake and get out before any rain or thunder materialized.
The swim start was a bit brisk, with the lake coming in at 52.2F. But I decided rather wisely to don my neoprene top, and this made all the difference in the wavy water.
I made it to the 1/4 mile mark quite quickly due to a strong southbound current generated by the 10mph wind from the north. This gave me some extra energy that I most certainly needed on the way back!
Visibility was near nil swimming directly into the 3-5 foot swells, and I was constantly getting pushed towards the side wall where I would get sandwiched between the southbound waves and the chaotic chops ricocheting off of the wall. So if I didn't swim farther out, I got stuck in a churning mess that wrung me out like a wet rag.
Needless to say, I was quite relieved when I finally spotted L1 during a break in the swells. So I slogged my way over to our beloved swim icon and pulled myself out of the lake, quite glad to be back on dry land again!
Since I didn't go with any gloves or booties, my hands and feet were a bit numb from the cold water and the nippy breeze. But I didn't really have much of an afterdrop this time – an unexpected bonus!
And while it was nice to have the lakefront to ourselves (we estimate we saw only about 6-7 runners in total), we Lake Monsters are social creatures. So don't let a little wind or rain keep you from getting out to the beach this time of year!
L1 at dawn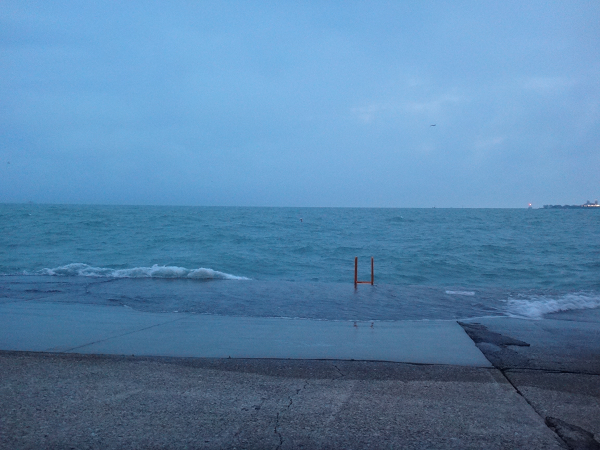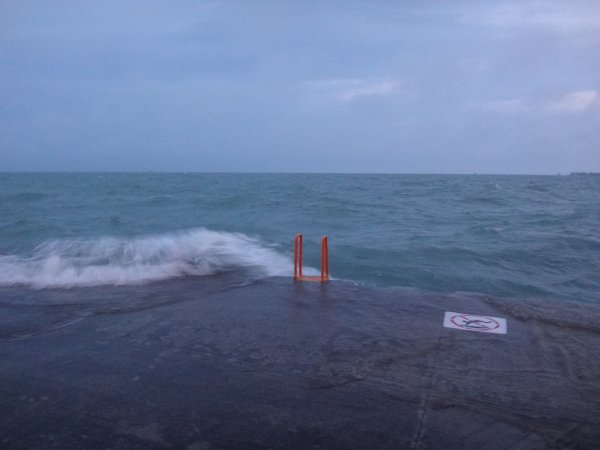 Blustery skyline