Swim Report – March 5, 2016 – Overcast Chill
I met up with Tim out at L1 just before "sunrise" on Saturday morning. Unlike last week, we did not have the benefit of a bright sunny morning. So we suited up quickly in the 35F air and gritted our teeth as we climbed down the ladder into the 36F lake.
As with the last two weeks, I had opted to "burn my ships" and leave my wetsuit at home. So my swim apparatus consisted of a short sleeve neoprene rashguard (1.5mm), neoprene shorts, hood, gloves, and booties.
Given the complete lack of sunshine, the first few moments in the lake were nothing short of bracing. Nevertheless, we got horizontal as quickly as possible and started pounding out swim strokes on our way south.
I made it just past the 1/8 mile mark before turning around. I was very comfortable in the water. However, as in the past, the real deal breaker was my fingertips – which had gotten quite numb by that time.
I stepped up the swim pace on the way back to L1, and got out very quickly. As expected, the afterdrop was much more vigorous given the overcast skies. But our recovery time keeps getting quicker every week.
Looking forward to Spring!
Overcast morning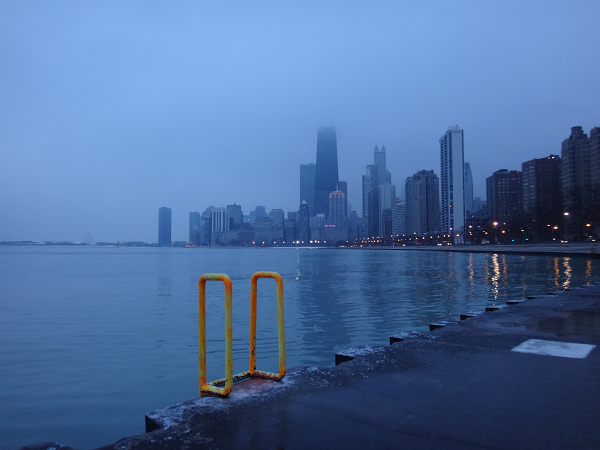 Rock star parking!