The sunny skies and 60F air temperature were just too much of a distraction for me today. So I gathered up some basic swim gear and headed out to the lakefront.
For the uninitiated, Lighthouse Beach can be a cruel place to swim in the colder months. The water is shallow for quite a ways out, and there's a sandbar close to the shore that makes it almost impossible to start swimming right away. So you are forced to wade out slowly and painfully until you get into water deep enough to start your swim. Nevertheless, as Lighthouse Beach is the closest beach to where I live, it's often my default choice for spontaneous outings.
There was a sustained wind from the southeast that was churning up the surf, but it wasn't as bad as I had been expecting. So I donned my jammers, foot covers, gloves, and hood and began the lengthy slog out to the deeper waters.
The water was warmer than I had anticipated. There wasn't the "pain factor" on my exposed skin that had been present during previous non-wetsuit swims. After finally getting into the deeper waters, I plunged in head first and started cranking out strokes while I acclimated to water.
The cold shock wore off after about a minute and a half, and I was able to stay in the water about 10 minutes, or just under 1/3 mile in total distance. After that, I made a sharp westward turn and heading back to the beach. By then the sun had faded and the wind had intensified to the point where it now had a colder edge to it that wasn't there at the beginning. So it looks like I finished up just in time!
Lighthouse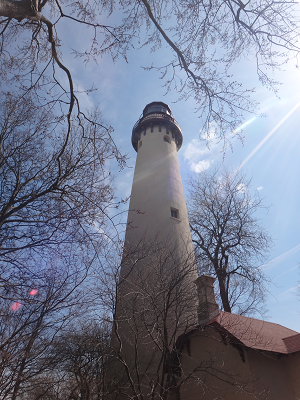 Lakefront pre-swim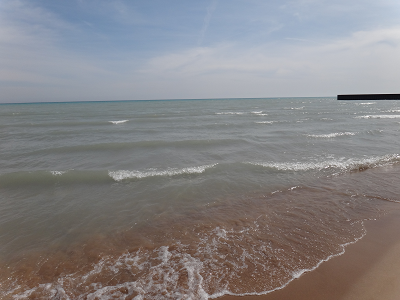 The author post-swim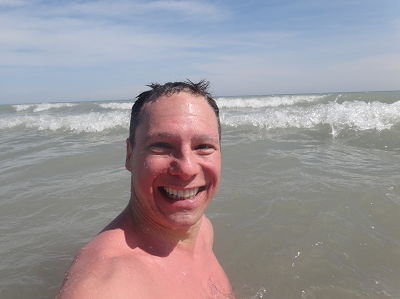 Today's video: