It's official. Summer has finally arrived! Now if only the water temperatures could catch up…
I opted to go wetsuit-less in favor of just my swim jammers and the thermo shirt. This set up worked beautifully last year at this time. However, the lake was still pretty bracing – at least at Orange Ladder North. I'd estimate that the temperature was around 57F. Tops.
For the first time this season, I experienced a significant immersion shock. I hit the water and my heart rate shot up quite unexpectedly. My first thought was "I REALLY should be wearing a wetsuit. This is WAY TOO COLD…" Since I didn't bring mine this time, I was tempted to kibosh the whole swim. But I realized that this anxiety was being generated by the immersion shock effects (i.e. the rapid heart rate and respiration). So I took a couple of deep breaths and did the dive reflex exercise, and these things took the edge off of the nagging sense of unease.
I kept a pretty intense swim pace and felt fairly warmed up by the five minute mark. But my extremities were getting numb halfway through the swim. I "sprinted" the last 50 meters and clambered up the ladder immediately because I knew that I was in for one doozy of an afterdrop – and it certainly didn't disappoint.
The afterdrop was the most intense I have experienced thus far. I kept spilling my post-swim tea because I was shivering quite vigorously for the first five minutes out of the water. And if I needed any external validation on how cold the water was, I got it from the Ochoas. They thought the water was ridiculously cold as well.
But it still didn't keep them out of it!
Solstice sunrise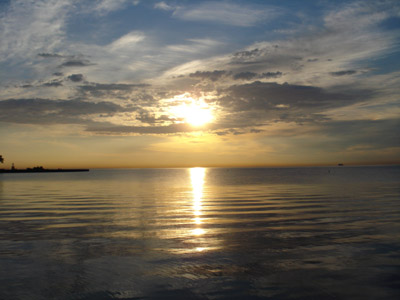 Summer squall over the lake