Swim Report – June 16, 2018 – Goodbye Spring!
The thunderstorms of Friday night may have caused many of us to lose precious sleep, but at least they were decent enough to move out just in time for Saturday morning's swim!
Since we're so close to the solstice, our swim meetups are insanely early this time of year. But the good part about this is that, with the exception of the sunrise photographers or some forlorn club-goer, we pretty much have the whole lakefront to ourselves. So we always look forward to this temporary space of calm before the inevitable swarm of humanity moves in from the west.
I arrived at L1 just after 5:00am, and I could see some storm activity to the south and east. However, the lake was mostly calm with a temperature reading of 64F – in other words, nearly perfect conditions.
Very soon several others arrived, and we decided to wait until just after 5:30am. By that time, the last vestiges of the storm had long since dissipated, so the swim was a go.
I went in with my warm water setup – i.e. jammers and goggles – but I did indulge a bit and wore a neoprene cap to keep my noggin warm. After an initial brisk lake entry, I acclimated right away and started making my way south.
I did what is now becoming my usual routine – a 1/2 mile point to point to Oak Street Beach followed by a walk back. I had swum wearing my Vibrams, so this made the return journey much more pleasant.
By the time I made it back to L1, the skies had cleared even more with the sun finally deciding to make an appearance. I stayed around a bit and chatted with some of the other swimmers. I also managed to get in my puppy fix when some early morning dog walkers stopped by with an adorably frisky boxer.
Overall, another perfect morning at the beach!
The storm moves out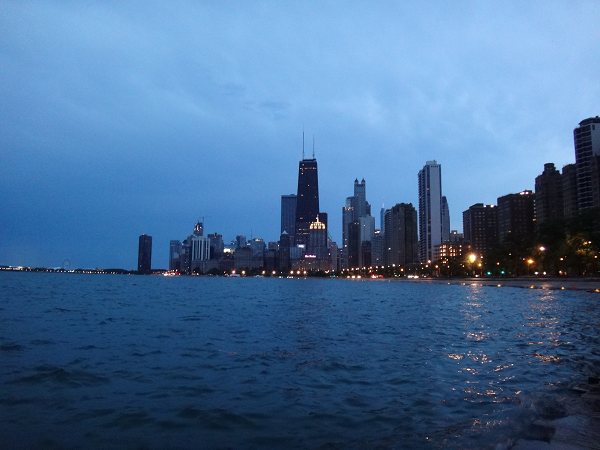 Lake Monsters at dawn
At the beach
Bobby, Lake Monster 486 (congrats!)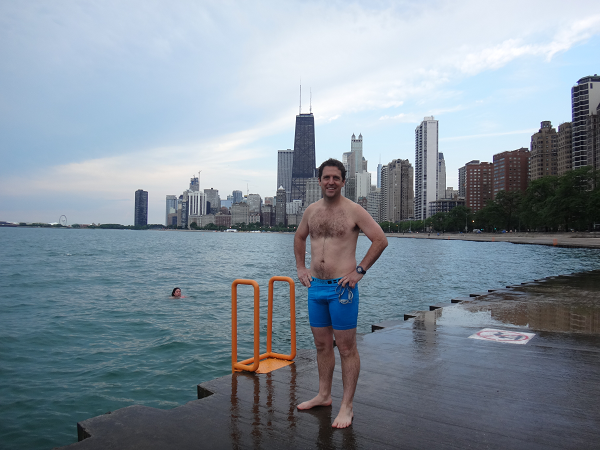 Here comes the sun!