The warmer temperatures this week eliminated all the ice and snow around our world famous swim site, so we had a clear area to swim in at 7:00am. Plus, for the first time in a while, we didn't have a pesky cloud wall on the eastern horizon delaying the appearance of Mr. Sol!
From what I've read online (and the Internet is always right), the Earth is closest to the sun in January. So that would account for the super-intense sunshine we had to "tolerate" during our swim today.
The air temperature was a bit crisp at 34F, but the lake came in at a rather tepid 35.2F. Plus it was relatively calm – at least when we started.
I climbed down the ladder and eased into the lake, hoping that all this bright sunshine would take the edge off of the chilly water. Unfortunately, there is no way you can make 35.2F comfortable on your exposed skin. So I had to endure about 3-4 minutes of "pins and needles" on my forearms and legs before I finally acclimated to the lake conditions.
I've been doing more strength training since the holidays, and that has boosted my endurance a bit. So I was able to do 1/2 mile for the first time in a while. However, the return swim was a bit of a bear as the chops had intensified. Plus it didn't help that I had been blissfully unaware of a rather vigorous southbound current that I had to swim directly into on that way back to L1!
Because of the extra time I spent in the water, my afterdrop was significantly more intense. So by the time I made it to the sanctuary of my heated Mazda, I felt like I was at the epicenter of a magnitude 8 quake. But fortunately for me, the worst of the tremors subsided by the time I got on the Kennedy!
All in all, yet another winter adventure out at the world's greatest swim spot!
January sunrise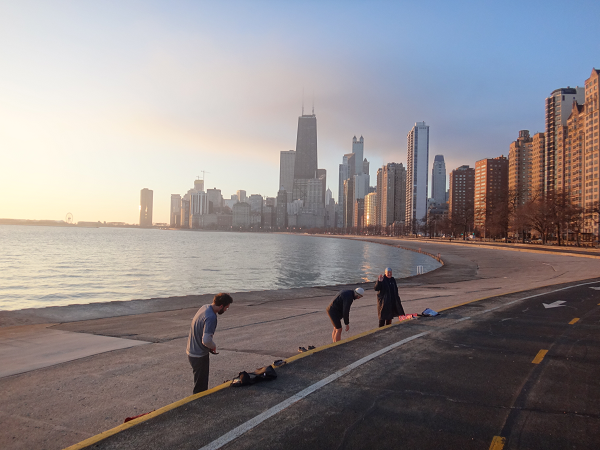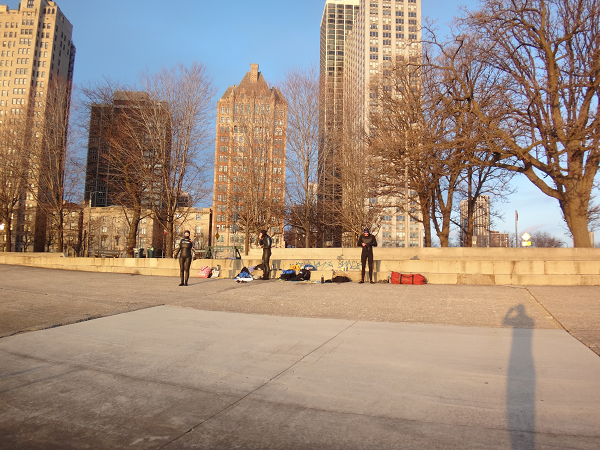 Pre-swim selfie
Gordon, pulling double duty as Lake Monster 484 and Ice Monster 23 (way to go!)