We really lucked out with the air temperature yesterday. It was already 46F at 7:00am, and the walk out to L1 from my parked car felt more like an April morning than a January one. But my hopes were instantly dashed the moment I exited the pedestrian tunnel out by the Chess Pavilion.
L1 was once again a complete bust on Saturday morning. The southeast winds had blown all the ice up from Ohio Street Beach, and there was no swimmable area anywhere around Oak Street Beach. So after some brief discussion, we decided to give North Avenue Beach a shot. And fortunately for us, things were much better at that site!
Because of the breakwater to the south, NAB didn't get any of the ice floes that were plaguing L1. So we had quite a spacious area of open water to play in – and we took full advantage of it!
I went with a long sleeve neoprene top this time, and it worked out great with the hood, glove, boots, and neoprene shorts. The only quibble I had was that the top rode up a bit on my torso and exposed a small area of my waist to the water during the swim. So my waistline felt like it was being sliced with razor blades for the first several minutes or so.
I managed to get in around 1/3 of a mile. I was quite comfortable with that gear setup, and I probably could have gone farther if I had been in better swim shape. Still, my fingertips were getting somewhat uncomfortable in their gloves by the end of the swim, so I'm glad I didn't stay in the water any longer.
Almost on cue, the sun broke out over the clouds just as we were stepping out of the water. This made for a very pleasant post swim transition period, and I barely had any afterdrop at all.
Bottom line, while we may get some more colder weather over the next month or so, we're pretty much "over the hump" now that the days are getting longer!
L1 at Daybreak
North Avenue Beach
Gearing up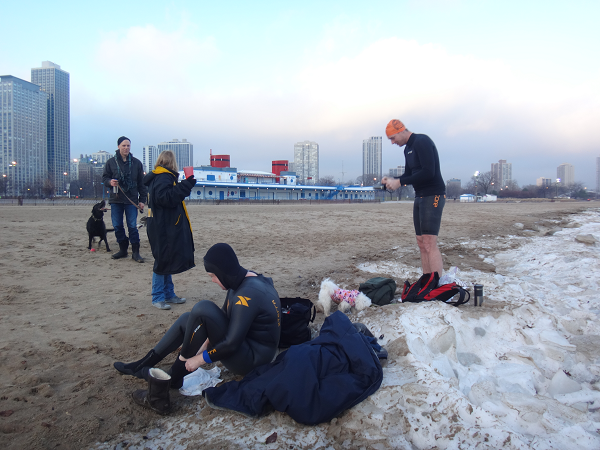 Post-swim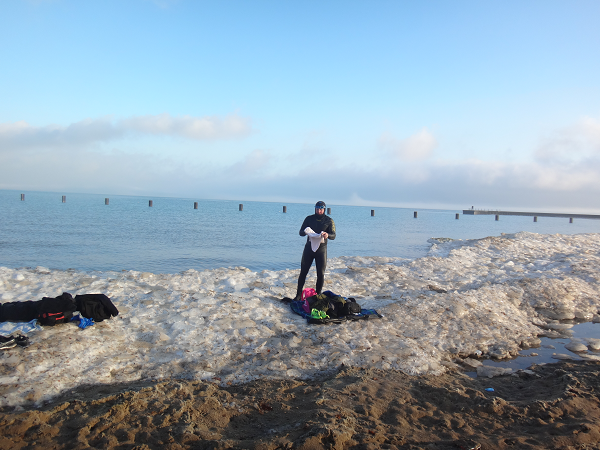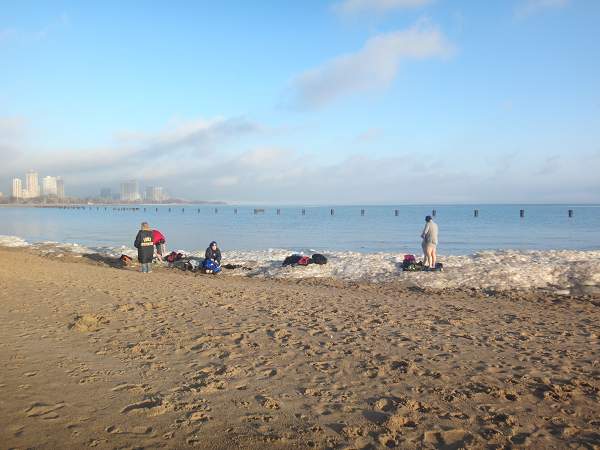 An ethereal L1