Swim Report – January 14, 2017 – Montrose for the Win
L1 was completely iced over – as was most of the lakefront on Saturday morning. Fortunately, we found a patch of somewhat navigable water a bit farther north…
Even though 2017 started off a bit colder than normal, I still held out hope that the gusty winds from earlier in the week would have cleared away the ice along the shoreline. However, L1 proved to be a complete bust. So I finished my coffee and took a few photos of the carnage to prove to you all that I did at least try to give it a go.
By that time, Fred had arrived. And after a short deliberation, we decided to try out the south wall up by Montrose harbor where we've had pretty good luck in the winter months. And that proved to be a very wise choice!
Unlike L1, the Montrose south wall actually had some open areas in the ice where could get in some swim time if we were so inclined (and we were). Plus the ladders were clear, so getting in and out was pretty easy. So we suited up right away and plopped into the icy water.
I went with a full wetsuit this time given all the ice in the area. I have learned from past experience that the cold and sharp edges of the ice can really wreak havoc on one's exposed skin. So I needed that extra protection if I had to climb or crawl over any of the ice floes. And that pretty much described what we had to do for most of the time in the water!
The biggest challenge once we got in the lake was finding a navigable area so we could continually swim. The reason for this difficulty was that we had to contend with a slight breeze that was constantly shifting the ice floes all around us. Because of this, we would often find ourselves coming to a dead end in the water where an open swim lane had existed just a few minutes before.
Getting back to the ladder was even more of an ordeal. By that time the ice had filled in almost all of the open swim area, and we couldn't really see much at water level. So we ended up having to scramble over newly iced over areas in order to make it back to the exit point.
But even with all these challenges and obstacles, it was still great to get in the lake!
Impenetrable swim area at L1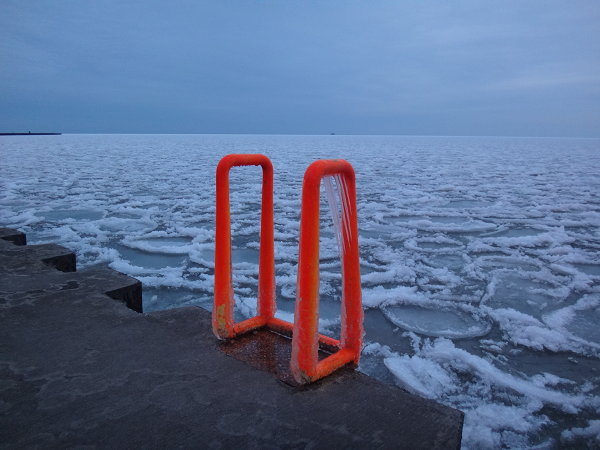 Open water at the Montrose south wall!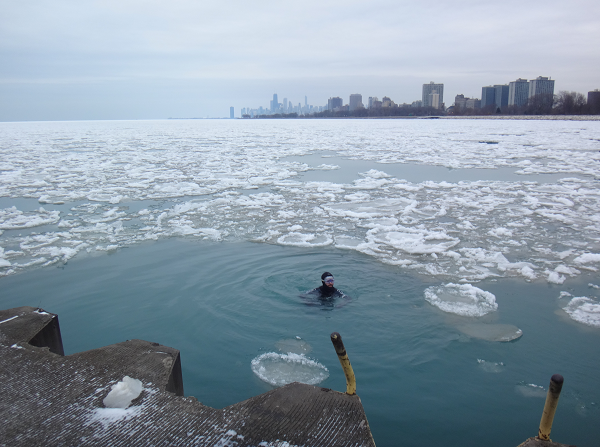 Navigating the swim lane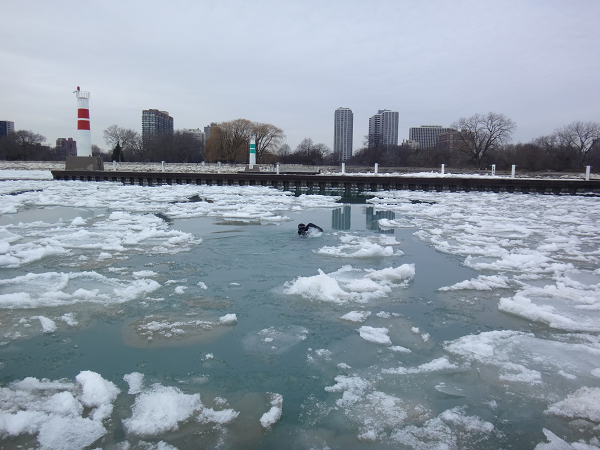 Encased in ice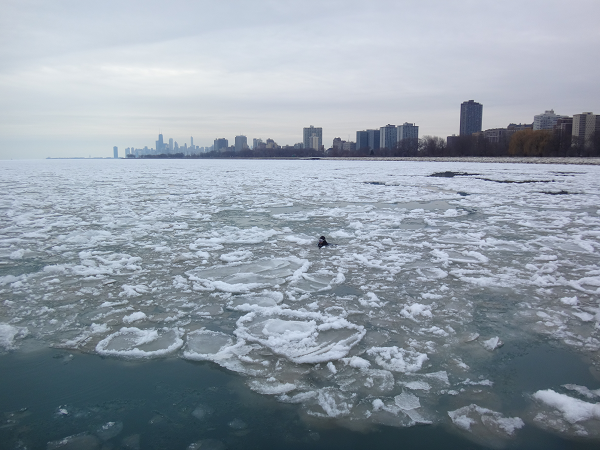 The long slog back!