Fred, Marton, and I met out at L1 and got in some lake time on this blustery December morning. The air temp was a crisp 37F with a constant east wind that nipped at our fingers whenever we took off our gloves. Given the roiling lake conditions, I wasn't able to get a thermometer reading by the ladder. But I'm estimating it was around 35F.
We suited up right away and got in the lake as quickly as possible. It was really hard to get into any kind of swim rhythm since we had both strong waves and "washing machine" chops that were ricocheting off of the side wall. But we did manage to get in a little over 1/4 mile – although certainly not in any straight line!
All in all, another great day at the beach!
Sunrise
December skyline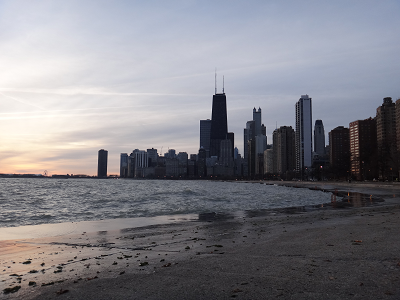 A belligerent lake
Pre-swim video