The winter power trio (Marton, Fred, and yours truly) met out at L1 at 7:30am to get in a swim while the weather held out. Unlike last week, we had quiet and calm conditions – both inside and outside of the lake.
The air temperature was the real star this morning coming in at a fiery 42F. The lake, quite surprisingly, measured almost 37F – a slight uptick from last week. But best of all, we had no wind and a perfectly flat lake!
Given this fortuitous set of weather conditions, I opted to forego the full suit in favor of just my hood, gloves, booties, jammers, and short sleeve thermo rash guard. I also wore a pair of neoprene shorts – having learned a valuable lesson last year that one must adequately insulate all extremities (you figure it out…).
I won't mince words. The first two minutes in this set up were pure torture on my uncovered arms and legs. And while the thermo shirt did offer significant protection, it was by no means as insulating to my core as neoprene!
Nevertheless, I pounded through the pain and eventually reached an equilibrium point where the frigid lake no longer bothered me. I went out to the orange post, which is almost exactly 1000 feet from L1 per Google Earth, before heading back. So in total, I got in just under 40% of a mile in these ideal swim conditions.
As usual this time of year, we didn't dither around after getting out of the water. I changed into my winter clothes as quickly as possible and trotted back to my car to crank up the heat. Fortunately, I was able to find a spot on the first street west of L1 – so I managed to save $10 as well!
Morning skyline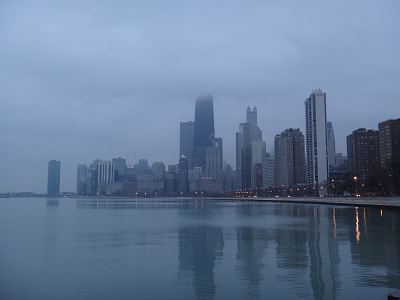 December beach party!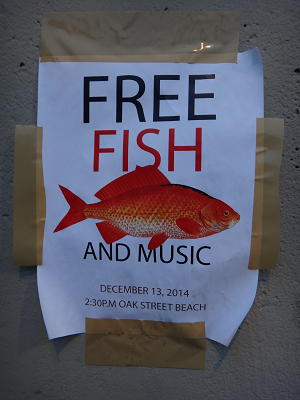 Pre-swim video