A belated report since I just got back to Chicago yesterday afternoon, so I'll make this quick!
I had a chance to meet up with the Nadadores swim group last Sunday while down in South Florida, and boy was it ever an adventure! The water temperature came in at an amazing 76F, and the weather was – of course – as good as it gets. But the idyllic azure Atlantic ocean had some hidden surprises for us…
Before the swim, Diego scouted out the area between the beach and the buoy. While there were some scattered jellyfish farther out, it all looked pretty feasible at first. So we waded out past the breaking waves and started to swim south parallel to the shore.
We were about 10 minutes into the swim when we started to run into denser and denser clusters of jellyfish. I was able to dodge them all thanks to the added buoyancy of the salt water. But we soon arrived at a veritable jellyfish wall that was completely impassible.
We turned around and headed back the same route. However, more and more jellyfish had floated in with the surf and now greeted us in our previously clear swim route. Once again, I managed to contort myself around them and avoid any tentacles, but I didn't want to press my luck any further.
So in the end, even though it was a short swim, it certainly made up for it in intensity!
A big shout out to Diego and the other Nadadores. I hope to see all of you again soon!
Swim start
Moon jellyfish (sorry for the bad shot – I was moving away pretty quickly when I took it!)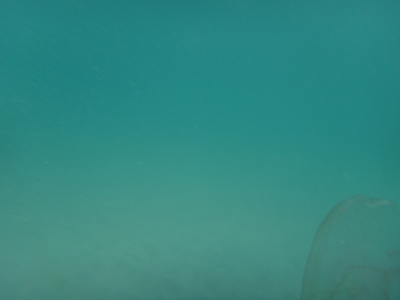 Pre-swim (pre-jellyfish) video