Swim Report – December 11, 2010 – As cold as it gets!
If you can handle today, you're set for the winter. That's because the lake temperature finally bottomed out at 33F – which is technically as cold as it can get before freezing over. We might have colder air temperatures here and there, but we're certainly not in for any drastic surprises with regards to the water temperature!
Dave, Nick, and new Lake/Ice Monster Steve joined me out at L1 this morning for a short but very intense swim. The weather forecast called for steadily increasing winds with a small craft advisory later in the day. And the chops were already forming by the time we hit the water!
We caught up with Dave around the 1/8 mile point who recommended we turn back and do long laps closer to L1. I initially opted to swim a bit further towards the beach. But I soon bumped into a bloom of ice floes cleverly camouflaged in the chops and quickly decided it was better to go back.
Outside of the insidious ice floes and the steadily increasing chops, the swim was quite manageable. The only real limiting factor was that our fingertips seemed to lose heat rather quickly even with the dive gloves. If we could just solve that problem, we could stay in the lake for hours!
Here's a clip from earlier this morning. More stuff to come!
Taking the plunge
In the chops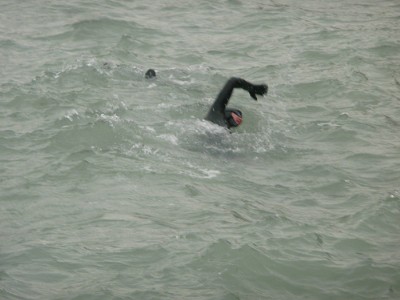 Post-swim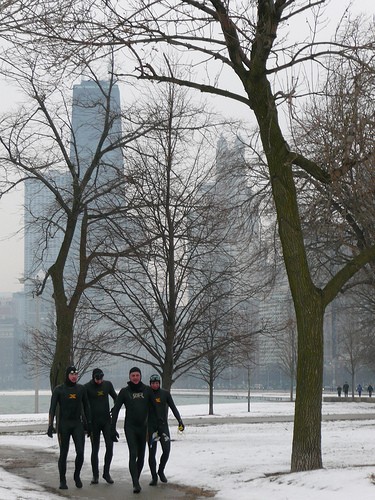 (Photos courtesy of Steve and Katy – great job!)