Swim Report – Bayfield, WI Point to LaPointe 2-Miler – August 9, 2008
The Point to LaPointe swim started out two years ago as a local fund raising event for the Bayfield Area Recreation Center. However, judging by the strong interest and attendance this year, I predict that this event will become one of the preeminent open water swim events in the Midwest – if not nationwide.
The swim course itself is spectacular. It's a point to point 2.07 mile jaunt in Lake Superior from the Bayfield mainland to Madeline Island, the largest of the world famous Apostle Islands. The water is stunningly clear – the most pristine lake water I have ever encountered. And the mighty Lake Superior lives up to its name by providing swimmers with ample challenges in the form of bracing water temperatures and strong currents.
However, it's the surrounding area of Bayfield and the Apostle Islands that makes this an absolutely magical event. The Point to LaPointe swim takes place in early August when the brief but glorious Lake Superior summer season is in full bloom. And nowhere do people cherish their summer months more heartily than in the far north shores of Wisconsin and Minnesota. It is a land rich in culture and tradition that's steeped in the ancient history of the Ojibwa migration and has its "contemporary" roots in the fur trade of the 1500's and in the timber, iron ore, and fishing industries that provided the foundation upon which America was built throughout the 1700's and 1800's.
Go there for the swim, and stay there for the true experience of summer at its finest…
There were 120 swimmers this year – a huge jump from last year's count of 57. Swimmers came from as far away as Long Beach, CA to brave the channel crossing, and they got to experience all facets of Lake Superior's mercurial personality.
The first wave of competitive swimmers took off at 7:20am under near perfect conditions. With sunny skies and water temperatures hovering around 66F, the first mile was about as ideal as it could get. Halfway through the race, though, a northeast wind arrived and whipped up the waves so much that most of the swimmers had to fight a strong sideways current that literally came out of nowhere. I myself went home with several souvenir mouth/lungfuls of Lake Superior water, but I managed to make it to the swim finish in 1 hour 15 minutes without overshooting the target.
Others, though, had a bit more of a workout…
The community swimmers took off at 7:40am and experienced the brunt of the current for most of the swim. Many found themselves drifting southwest of the finish area only to have to backtrack along the coast with the guidance of a kayaker. Still, they all gutted it out, and the last swimmer exited the water at just over 3 hours – which makes me exhausted just thinking about it! Here are the shots:
Bayfield sunrise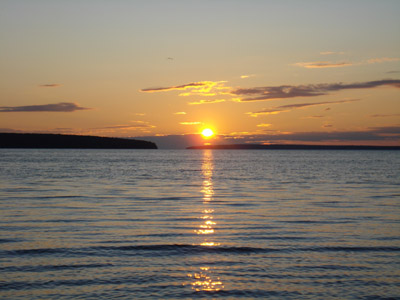 Swim start beach (Madeline Island in the background)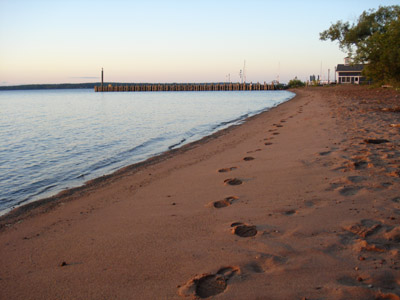 Swim finish on Madeline Island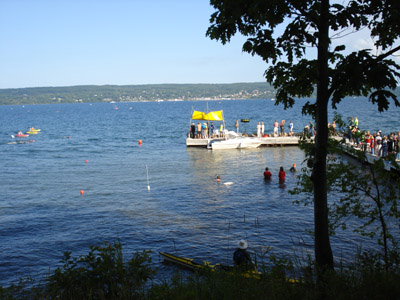 Panoramic video of the course from the finish area