Swim Report – August 18, 2012 – Air Show weekend!
Due to the Air and Water Show going on today and tomorrow, I scheduled a super early start time for this morning's swim (5:30am). Because of the possibility that the police would shut down the lakefront early, I instructed everyone to get prepped and get into the water ASAP. Fortunately, this proved to be overkill since we were able to get in our swim and hang afterwards without incident.
The lake had a very slight swell, and the official water temperature came in at a very pleasant 73F. This was significantly warmer than the 60F air temperature, so we were quite happy once we got in the water.
It was dark when we first got into the water, so the first half of the swim was a much more solitary and "contemplative." But the skies lit up on the way to Oak Street Beach, and the sun rose shortly after we gathered at the halfway point. So the swim back to L1 was a one big group celebration of nature's show!
Once again, we had the entire lake to ourselves. And just as important, we managed to avoid the heavy traffic and crowds that were just starting to trickle in while we were on our way home!
Sunrise on the way back to L1
Almost back!
Post-swim show
The early morning crew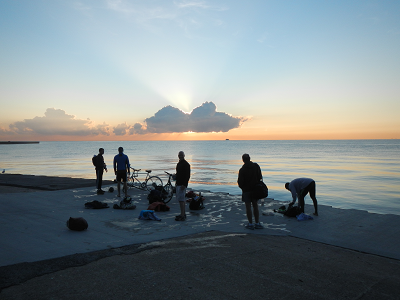 Bobby, Lake Monster 196 (congrats!)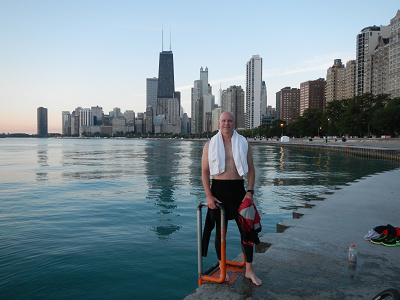 Ali, Lake Monster 197 (congrats!) and Pam, Lake Monster 195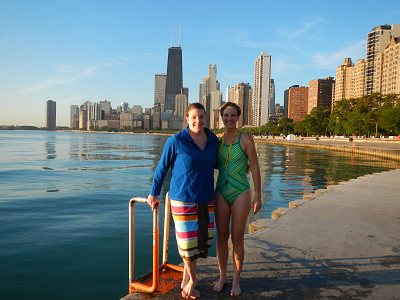 Group shot post-sunrise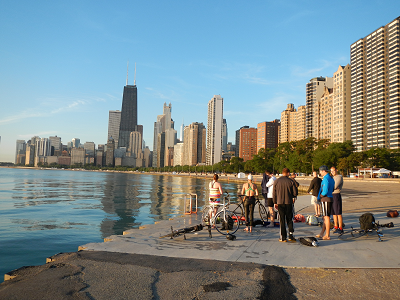 Swim video: