It was all about nature's show this morning…
Mike, Marlena, and I met up with Nick at L1 just a few minutes before sunrise. I was worried we were going to miss out on it since it was already getting quite bright out on the horizon. But luckily we made it out to the lakefront with enough time to check out the breathtaking spectacle!
After taking several measurements, we found the lake temperature to be somewhere between 43F – 45F. We had some slight chops in the swim area, but nothing too daunting.
Because of the clear skies and abundant sunshine, I was torn between going with a wetsuit or doing a shorter swim sans wetsuit. My dilemma was that I didn't want to swim to the beach and then find myself completely frozen and unable to continue in the water. The best case in that scenario would be a long, cold walk back.
So after much deliberation, I decided to do a quick 1/2 mile jog to Oak Street Beach, and then start my swim from there. That way it was a point-to-point 1/2 mile with the incentive of getting closer and closer to the finishing point with each stroke!
Surprisingly, this tactic worked quite well. I got to do a quick barefoot run workout and was already in the aerobic zone by the time I reached the beach. The key was to get in right away with very little hesitation – not an easy task.
Overall, I felt fairly comfortable during the swim. My hands and feet were numb clubs by the time I crossed paths with the others at the 1/4 mile point. But I made it back to L1 relatively unscathed and immediately bundled up.
So for better or worse, it may be time to put the wetsuit in storage until autumn!
Pre-sunrise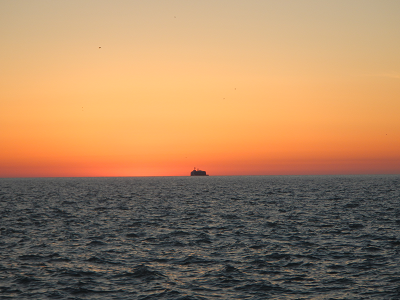 Post-sunrise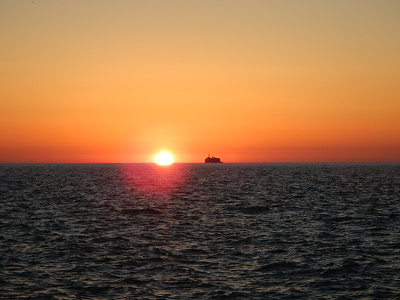 Another perspective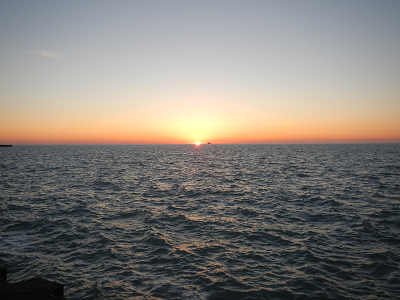 Lake Monster Gear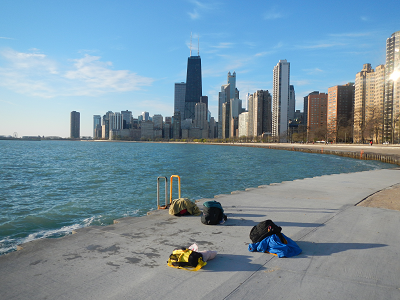 Post-swim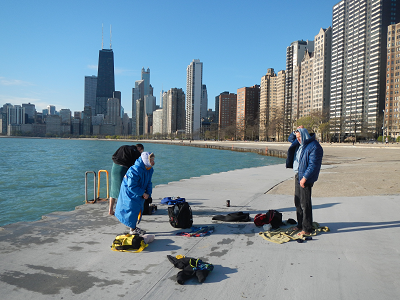 Sunrise video